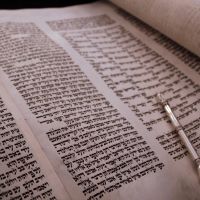 23 Tamuz 5781
July 3, 2021
Parashat Pinchas
"Phinehas" 
Here are the Torah, Haftarah and suggested Brit Chadasha (New Testament) and Tehillim (Psalms) readings for this week.
• Numbers 25:10-30:1(29:40)
• 1 Kings 18:46-19:21
• John 2:13-25
• Revelation 19:11-21
• Psalm 50
A psalm of Asaph. God, Elohim Adonai has spoken and summoned the earth from the rising of the sun to its setting. Out of Zion, the perfection of beauty, God shines forth.
(Psalm 50:1-2 TLV)
The seven aliyot readings from the Torah begin at these verses:
Numbers 25:10
Numbers 26:5
Numbers 26:52
Numbers 27:6
Numbers 28:1
Numbers 28:16
Numbers 29:12
Maftir: Numbers 29:35
In Pinchas
The Key People include Moshe (Moses), Pinchas (Phinehas), Zimri, Cozbi, Midianites, El'azar (Eleazar), the Israelites who were counted the second time and listed clan by clan, Kalev (Caleb), and Y'hoshua (Joshua).
The Scenes are b'arvot Mo'av al-Yarden Y'recho (on the plains of Moab by the Jordan across from Jericho); the entrance to the Tent of Meeting; and har haAvarim (a mountain in the Abarim range).
The Main Events include Pinchas becoming High Priest because of his zeal; another census count for the arm; land inheritance to be based on numbers; Levites receiving no land; note that older generations all gone except for Kalev and Y'hoshua; daughters of Ts'lof'chad receiving own inheritance; Y'hoshua dedicated as new leader to succeed Moshe, and regular and festival offerings spelled out.
Adonai said to Moses, "Take Joshua son of Nun, a man in whom is the Ruach, and lay your hand on him. You will have him stand before Eleazar the kohen and the entire assembly and commission him before their eyes. Give to him some of your authority so that the whole community of Bnei-Yisrael will obey him. He will stand before Eleazar the kohen, who will pray and obtain judgments for him by Urim and before Adonai. At his mouth, they will go out and at his mouth they will come in, he and all the community of Bnei-Yisrael with him." Moses did as Adonai commanded him. He took Joshua, stood him before Eleazar the kohen and all the entire assembly. Then he laid his hands on him and commissioned him just as Adonai had spoken, by Moses' hand.
(Numbers 27:18-23 TLV)
The Haftarah
Then Adonai said to him, "Go, return on your way to the wilderness of Damascus, and when you get there, anoint Hazael king over Aram, and anoint Jehu son of Nimshi king over Israel, and anoint Elisha son of Shaphat of Abel-meholah as prophet in your place. It shall come to pass that whoever escapes from the sword of Hazael, Jehu will slay; and whoever escapes from the sword of Jehu, Elisha will slay. Yet I have preserved seven thousand in Israel whose knees have not bowed to Baal and whose mouth has not kissed him." So he departed from there and found Elisha son of Shaphat while he was plowing with twelve pairs of oxen before him, and he with the twelfth. Then Elijah crossed over to him and threw his mantle on him.
(1 Kings 19:15-19 TLV)

The Brit Chadasha
Then I saw heaven opened, and behold, a white horse! The One riding on it is called Faithful and True, and He judges and makes war in righteousness. His eyes are like a flame of fire, and many royal crowns are on His head. He has a name written that no one knows except Himself. He is clothed in a robe dipped in blood, and the name by which He is called is "the Word of God." And the armies of heaven, clothed in fine linen, white and clean, were following Him on white horses.
(Revelation 19:11-14 TLV)
Torah Portion readings and the associated Haftarah readings generally follow the Stone Edition Chumash and/or the Complete Jewish Bible. Verse numbering generally follows the Hebrew tradition, and where modern Christian traditions differ those verse numbers are shown in parentheses (). Haftarah readings generally follow the Ashkenazi tradition. Where the Sephardic tradition differs, the Haftarah portions are designated as (A) and (S). Suggested New Testament readings are taken from various sources. Suggested Psalm readings are from the Messianic Siddur for Shabbat by Daniel Perek. The Key People, The Scenes, and The Main Events are taken from the Walk! series of Messianic Devotion Commentaries by Dr. Jeffrey Enoch Feinberg. Scripture taken from the Tree of Life Version (TLV) © 2015 by the Messianic Jewish Family Bible Society. Used by permission of the Messianic Jewish Family Bible Society.