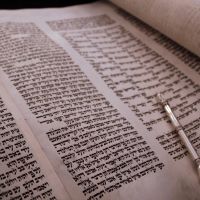 1 Av 5781
July 10, 2021
Parashat Mattot
"Tribes"
Parashat Massei
"Journeys"
Here are the Torah, Haftarah and suggested Brit Chadasha (New Testament) and Tehillim (Psalms) readings for this week.
Mattot
• Numbers 30:2(1)-32:42
• Jeremiah 1:1-2:3
• Acts 9:1-22
• Psalm 111
He has sent redemption to His people. He has ordained His covenant forever. Holy and awesome is His Name. The fear of Adonai is the beginning of wisdom. All who follow His precepts have good understanding. His praise endures forever!
(Psalm 111:9-10 TLV)
Massei
• Numbers 33:1-36:13
• Jeremiah 2:4-28; 3:4 (A)
• Jeremiah 2:4-28; 4:1-2 (S)
• James 4:1-10
• Psalm 49
No man can redeem his brother, or give to God a ransom for him. For the redemption of a soul is costly—so, one should stop trying forever. Will he live forever—and never see the Pit? …But God redeems my soul from the power of Sheol—for He receives me. Selah
(Psalm 49:8-10,16 TLV)
The seven aliyot readings from the Torah for the combined portions Mattot and Massei begin at these verses:
Numbers 30:2(1)
Numbers 31:13
Numbers 31:1
Numbers 32:20
Numbers 33:50
Numbers 34:16
Numbers 35:9
Maftir: Numbers 36:10
In Mattot and Massei
The Key People include Moshe (Moses), tribal heads, Midianites, Israelites, Pinchas (Phinehas), 5 kings of Midian, Bil'am (Balaam), El'azar (Eleazar), army officers, Levites, Reubenites, Gadites, Y'hosuha (Joshua), family leaders, half-tribe of M'nasheh (Manasseh), Amorites, Bashan, Macharites, Ya'ir (Jair) and Novach (Nobah); Aharon (Aaron), one leader from each tribe, Gileadite heads, and five daughters of Ts'lof'chad. (Zelophehad).
The Scenes include Midianite towns, Mo'av (Moab), Tent of Meeting, Ya'azer (Jazer), Gil'ad (Gilead), list of captured towns, kingdoms of Sichon (Sihon) and Og, towns rebuilt in the east, Chavot Ya'ir (havvoth Jair) and K'nat/Novach (Kenath/Nobah); borders in new land, Levites' towns, cities of refuge, and land for Ts'lof'chad's daughters.
The Main Events in Mattot include laws about husband/wife, father/daughter vows; slaying Midianites and Bil'am, dividing plunder; no casualties, gift of gold; request for grazing territory  east of Yarden; warning not to discourage conquest; pledge to help fight in west; and land granted to R'uven, Gad, and M'nasheh.
The Main Events in Massei include list of journey stops; more traveling; instructions to drive out Canaanites, destroy high places, and divide land; borders of Promised Land; list of leaders to divide inheritance; cities for Levites; cities of refuge; laws about murder; each tribe to pass down own inheritance; and Ts'lof'chad's daughters marrying inside tribe to keep their inheritance.
Adonai spoke to Moses along the Jordan in the plains of Moab across from Jericho saying, "Speak to Bnei-Yisrael and say to them: When you cross the Jordan into the land of Canaan, You must drive out all the inhabitants of the land before you. You must destroy all their idols and cast images, and demolish their high places. You will take possession of the land, so you will settle in it, because I have given it to you to possess.
(Numbers 33:50-53 TLV)

The Haftarah
Moreover, the word of Adonai came to me, saying, "What do you see, Jeremiah?" I answered, "I see an almond branch." Then Adonai said to me, "You have seen correctly, for I am watching over My word to perform it."
(Jeremiah 1:11-12 TLV)

The Brit Chadasha
Don't you know that friendship with the world is enmity with God? Therefore whoever wishes to be a friend of the world makes himself an enemy of God. Or do you think that in vain the Scripture says, "He yearns jealously over the spirit which He made to dwell in us"? But He gives greater grace. Therefore it says, "God opposes the proud, but gives grace to the humble." Therefore submit to God. But resist the devil and he will flee from you.
(James 4:4-7 TLV)
Torah Portion readings and the associated Haftarah readings generally follow the Stone Edition Chumash and/or the Complete Jewish Bible. Verse numbering generally follows the Hebrew tradition, and where modern Christian traditions differ those verse numbers are shown in parentheses (). Haftarah readings generally follow the Ashkenazi tradition. Where the Sephardic tradition differs, the Haftarah portions are designated as (A) and (S). Suggested New Testament readings are taken from various sources. Suggested Psalm readings are from the Messianic Siddur for Shabbat by Daniel Perek. The Key People, The Scenes, and The Main Events are taken from the Walk! series of Messianic Devotion Commentaries by Dr. Jeffrey Enoch Feinberg. Scripture taken from the Tree of Life Version (TLV) © 2015 by the Messianic Jewish Family Bible Society. Used by permission of the Messianic Jewish Family Bible Society.