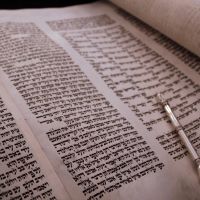 16 Tamuz 5781
June 26, 2021
Parashat Balak
"Balak"
Here are the Torah, Haftarah and suggested Brit Chadasha (New Testament) and Tehillim (Psalms) readings for this week.
• Numbers 22:2-25:9
• Micah 5:6(7)-6:8
• Romans 11:25-32
• Jude 1-25
• Psalm 79
So we, Your people, the flock of Your pasture, will praise You forever.
From generation to generation we will recount Your praise.
(Psalm 79:13 TLV)
The seven aliyot readings from the Torah begin at these verses:
Numbers 22:2
Numbers 22:13
Numbers 22:21
Numbers 22:39
Numbers 23:13
Numbers 23:27
Numbers 24:14
Maftir: Numbers 25:7
In Balak
The Key People include Balak, messengers, Bil'am (Balaam), ziknei Mo'av v'Midyan (elders of Moab and Midian), the donkey, the angel, Amalekites, Kenites, Moabite women, and Pinchas (Phinehas).
The Scenes include Mo'av (Moab), P'tor (Pethor), the Arnon border, Kiryat Chutsot (Kiriath Huzoth), Bamot Ba'al (Bamoth Baal), s'deh Tsofim al-rosh haPisgah (field of Zophim on top of Pisgah), rosh haP'or (top of Peor), and Shittim.
The Main Events include Balak buying curses; Bil'am's donkey balking and talking; permission to speak only God's words; three high places visited, altars built; Bil'am blessing Yisra'el, saying Ma Tovu, and prophesying enemies' destruction; Yisra'el joining with Moabite women and gods at covenant feast, even in the camp; plague; and Pinchas spearing couple to stop plague.
He uttered his oracle and said: "This is the oracle of Balaam son of Beor, and the oracle of a strong man whose eye has been opened, the oracle of one hearing God's speech, one seeing Shaddai's vision, one fallen down, yet with open eyes: How lovely are your tents, O Jacob, and your dwellings, O Israel! Like valleys they are spread out, like gardens beside a river, like aloes planted by Adonai, like cedars beside the waters.
(Numbers 24:3-6 TLV))
The Haftarah
With what shall I come before Adonai? With what shall I bow myself before God on high? Shall I present Him with burnt offerings, with year-old calves? Will Adonai be pleased with thousands of rams, with hordes of rivers of oil? Shall I offer my firstborn for my transgression, the fruit of my belly for the sin of my soul? He has told you, humanity, what is good, and what Adonai is seeking from you: Only to practice justice, to love mercy, and to walk humbly with your God.
(Micah 6:6-8 TLV)

The Brit Chadasha
Now to the One who is able to keep you from stumbling, and to present you blameless before the presence of His glory with great joy, to the only God our Savior, through Yeshua the Messiah our Lord, be glory, majesty, power, and authority, before all time, both now and forever. Amen.
(Jude 24-25 TLV))
Torah Portion readings and the associated Haftarah readings generally follow the Stone Edition Chumash and/or the Complete Jewish Bible. Verse numbering generally follows the Hebrew tradition, and where modern Christian traditions differ those verse numbers are shown in parentheses (). Haftarah readings generally follow the Ashkenazi tradition. Where the Sephardic tradition differs, the Haftarah portions are designated as (A) and (S). Suggested New Testament readings are taken from various sources. Suggested Psalm readings are from the Messianic Siddur for Shabbat by Daniel Perek. The Key People, The Scenes, and The Main Events are taken from the Walk! series of Messianic Devotion Commentaries by Dr. Jeffrey Enoch Feinberg. Scripture taken from the Tree of Life Version (TLV) © 2015 by the Messianic Jewish Family Bible Society. Used by permission of the Messianic Jewish Family Bible Society.