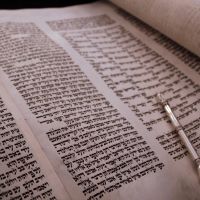 18 Sivan 5781
May 29, 2021
Parashat Beha'alotcha
"When you set up"
Here are the Torah, Haftarah and suggested Brit Chadasha (New Testament) and Tehillim (Psalms) readings for this week.
• Numbers 8:1-12:16
• Zechariah 2:14-4:7
• Revelation 11:1-19
• Psalm 68
Ascribe strength to God—His majesty is over Israel and His strength is in the skies.
O God, You are awesome from Your holy places.
The God of Israel gives strength and power to the people.
Blessed be God!
(Psalm 68:35-36 TLV)
The seven aliyot readings from the Torah begin at these verses:
Numbers 8:1
Numbers 8:15
Numbers 9:1
Numbers 9:15
Numbers 10:11
Numbers 10:35(A) 10:29(S)
Numbers 11:30
Maftir: Numbers 12:14
In Beha'alotcha
The Key People include Moshe (Moses), Aharon (Aaron) and sons, Levites, tribes and leaders, Chovav (Hobab/Jethro), the rabble, 70 elders, Eldad, Meidad (Medad), Y'hoshua (Joshua), Miryam (Miriam) and Moshe's Cushite/Ethiopian wife.
The Scenes include the wilderness of Sinai and paran, Tav'erah (Taberah/"burning"), Kivrot-haTa'avah (Kibroth Hattaavah/"graves of craving"), & Chatserot (Hazerot).
The Main Events include guide for lighting lamps and observing Passover; cloud/fire pillar to guide journey; trumpet signals; 1st move after 2+ years; "Kuma, Adonai" (Arise, O Lord): complaints about manna, 70 elders to help Moshe; quail and plague; Miryam and Aharon speaking against Moshe; Adonai confirming Moshe's authority peh el-peh (mouth to mouth); Miryam cast out 7 days; and camp moving.
Whenever the Ark would set out, Moses would say: "Arise, Adonai! May Your enemies be scattered! May those who hate You flee from before You!" Then whenever it came to rest, he would say: "Return, Adonai, to the myriad thousands of Israel!"
(Numbers 10:35-36 TLV)
The Haftarah
Then he responded to me by saying, 'This is the word of Adonai to Zerubbabel saying: "Not by might, nor by power, but by My Ruach!" says Adonai-Tzva'ot. "What are you, great mountain? Before Zerubbabel you will become a plain. He will bring out the capstone with shouts of "Grace, grace" to it.'"
(Zechariah 4:6-7 TLV)
The Brit Chadasha
Then the Temple of God in heaven was opened, and the Ark of His Covenant appeared in His Temple. And there were flashes of lightning and rumblings and clashes of thunder and an earthquake and heavy hail.
(Revelation 11:19 TLV)

Torah Portion readings and the associated Haftarah readings generally follow the Stone Edition Chumash and/or the Complete Jewish Bible. Verse numbering generally follows the Hebrew tradition, and where modern Christian traditions differ those verse numbers are shown in parentheses (). Haftarah readings generally follow the Ashkenazi tradition. Where the Sephardic tradition differs, the Haftarah portions are designated as (A) and (S). Suggested New Testament readings are taken from various sources. Suggested Psalm readings are from the Messianic Siddur for Shabbat by Daniel Perek. The Key People, The Scenes, and The Main Events are taken from the Walk! series of Messianic Devotion Commentaries by Dr. Jeffrey Enoch Feinberg. Scripture taken from the Tree of Life Version (TLV) © 2015 by the Messianic Jewish Family Bible Society. Used by permission of the Messianic Jewish Family Bible Society.