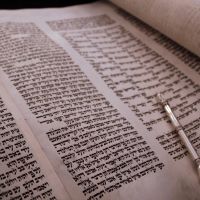 11 Sivan 5781
May 22, 2021
Parashat Naso
"Elevate"
Here are the Torah, Haftarah and suggested Brit Chadasha (New Testament) and Tehillim (Psalms) readings for this week.
• Numbers 4:21-7:89
• Judges 13:2-25
• John 12:20-36
• Psalm 67
For the music director, with stringed instruments, a psalm, a song.
May God be gracious to us and bless us.
May He cause His face to shine upon us—Selah
so that Your way may be known on earth,
and Your salvation among all nations.
(Psalm 67:1-3 TLV)
The seven aliyot readings from the Torah begin at these verses:
Numbers 4:21
Numbers 4:38(A) 4:34(S)
Numbers 5:1
Numbers 5:11(A) 7:1(S)
Numbers 7:1(A) 7:12(S)
Numbers 7:42
Numbers 7:72
Maftir: Numbers 7:87
In Naso
The Key People include Moshe (Moses), all the Levites – sons of Gershon, M'rari (Merari), and K'hat (Kohath); the unclean; jealous husbands and their wives; Nazirites; Aharon (Aaron); and leaders of all the tribes.
The Scene is the wilderness of Sinai.
The Main Events include tasks for the Gershonites and Merarites; census totals for Levites; instructions to keep tsara'at (infection) out of the camp; law of jealousy; Nazirite vows; Aaronic benediction; altar dedication; offerings of the tribal princes; donations for Levites; and Moshe entering the tabernacle to hear the LORD speak.
Again Adonai spoke to Moses saying, "Speak to Bnei-Yisrael and say to them: Any man or woman who desires to vow a Nazirite vow to be separate for Adonai, is to abstain from wine and any other fermented drink. He is not to drink any vinegar made from wine or any fermented drink, or any grape juice, or eat grapes or raisins. All during his days as a Nazirite he is not to eat anything from the grapevine—even the seeds or skins. All the duration of his Nazirite vow, no razor is to come on his head until the time of his consecration to Adonai is over. He is to be holy, and the hair of his head is to grow long.
(Numbers 6:1-5 TLV)

The Haftarah
Then the woman came and told her husband saying, "A man of God came to me and his appearance was like the appearance of the angel of God, very awesome! But I did not ask him where he was from, nor did he tell me his name. He said to me, 'Behold, you will conceive and bear a son. So, drink no wine or strong drink, and eat nothing unclean, for the child will be a Nazirite to God from the womb to the day of his death."
(Judges 13:6-7 TLV)

The Brit Chadasha
Yeshua answers them, saying, "The hour has come for the Son of Man to be glorified! Amen, amen I tell you, unless a grain of wheat falls to the earth and dies, it remains alone. But if it dies, it produces much fruit. …And as I am lifted up from the earth, I will draw all to Myself."
(John 12:23-24; 32 TLV)
Torah Portion readings and the associated Haftarah readings generally follow the Stone Edition Chumash and/or the Complete Jewish Bible. Verse numbering generally follows the Hebrew tradition, and where modern Christian traditions differ those verse numbers are shown in parentheses (). Haftarah readings generally follow the Ashkenazi tradition. Where the Sephardic tradition differs, the Haftarah portions are designated as (A) and (S). Suggested New Testament readings are taken from various sources. Suggested Psalm readings are from the Messianic Siddur for Shabbat by Daniel Perek. The Key People, The Scenes, and The Main Events are taken from the Walk! series of Messianic Devotion Commentaries by Dr. Jeffrey Enoch Feinberg. Scripture taken from the Tree of Life Version (TLV) © 2015 by the Messianic Jewish Family Bible Society. Used by permission of the Messianic Jewish Family Bible Society.