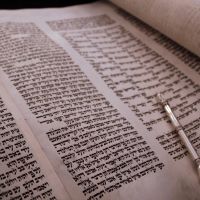 Parashat Va'etchanan
"And I Pleaded"
16 Av 5782
August 13, 2022
Torah Reading
• Deuteronomy 3:23-7:11
Then I pleaded with Adonai, '"Adonai Elohim, you have begun to reveal your greatness to your servant… "
(Deuteronomy 3:23-24 CJB)
Haftarah Reading
• Isaiah 40:1-26
New Testament Reading
• Matthew 23:31-39
Suggested Psalm
• Psalm 90
A prayer of Moshe the man of God:
Adonai, you have been our dwelling place
in every generation.
Before the mountains were born,
before you had formed the earth and the world,
from eternity past to eternity future
you are God.
(Psalm 90:1-2 CJB)
Aliyot
The seven aliyot readings from the Torah begin at these verses:
Deuteronomy 3:23
Deuteronomy 4:5
Deuteronomy 4:41(A) 5:1(S)
Deuteronomy 5:1(A) 5:19(22)(S)
Deuteronomy 5:19(22)(A) 6:4(S)
Deuteronomy 6:4(A) 6:10(S)
Deuteronomy 7:1
Maftir: Deuteronomy 7:9
Meditation
The Temple can no longer purify sins, because its very ground is defiled (Genesis 4:10-11; Numbers 35:30, 33-34)… Yeshua would have gathered the children "as a hen gathers her chickens… but you refused!" (Matthew 23:37). Now the curse falls – "God is abandoning your house… leaving it desolate (Matthew 23:38). But Messiah will return, when greetings fill the air!
– from Walk Deuteronomy! by Jeffrey Enoch Feinberg, Ph.D., used by permission.
---
Torah Portion readings and the associated Haftarah readings generally follow the Stone Edition Chumash and/or the Complete Jewish Bible. Verse numbering generally follows the Hebrew tradition, and where modern Christian traditions differ those verse numbers are shown in parentheses (). Haftarah readings generally follow the Ashkenazi tradition. Where the Sephardic tradition differs, the Haftarah portions are designated as (A) and (S). Suggested New Testament readings are taken from various sources. Suggested Psalm readings are from the Messianic Siddur for Shabbat by Daniel Perek. The Key People, The Scenes, and The Main Events are taken from the Walk! series of Messianic Devotion Commentaries by Dr. Jeffrey Enoch Feinberg. Unless otherwise marked, Scripture quotations are taken from the Complete Jewish Bible, Copyright © 1998 and 2016 by David H. Stern. Used by permission. All copyrights reserved worldwide.
This post contains affiliate links. Purchases help support Messianic Torah Portion and do not affect the price you pay. Please do not make purchases on the Sabbath.
Messianic Torah Portion is a ministry of The Messianic Light.