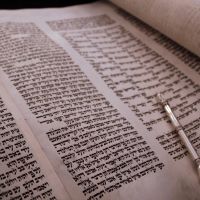 Parashat Devarim
"Words"
9 Av 5782
August 6, 2022
Torah Reading
• Deuteronomy 1:1-3:22
These are the words Moshe spoke to all Isra'el on the far side of the Yarden River…
(Deuteronomy 1:1 CJB)
Haftarah Reading
• Isaiah 1:1-27
New Testament Reading
• Acts 7:51-8:4
Suggested Psalm
• Psalm 137
If I forget you, Yerushalayim,
may my right hand wither away!
May my tongue stick to the roof of my mouth
if I fail to remember you,
if I fail to count Yerushalayim
the greatest of all my joys.
(Psalm 137:5-6 CJB)
Aliyot
The seven aliyot readings from the Torah begin at these verses:
Deuteronomy 1:1
Deuteronomy 1:11
Deuteronomy 1:22
Deuteronomy 1:39
Deuteronomy 2:2
Deuteronomy 2:31
Deuteronomy 3:15
Maftir: Deuteronomy 3:20
Meditation
The effects of sin accumulate with time. The process is subtle. Ask someone who wears glasses, and he will tell you that los of vision happens so gradually that its effects can creep in unnoticed for a period of months or years! In like manner, the blinding effects of sin cross over to new generations in the most subtle of ways.
– from Walk Deuteronomy! by Jeffrey Enoch Feinberg, Ph.D., used by permission.
---
Torah Portion readings and the associated Haftarah readings generally follow the Stone Edition Chumash and/or the Complete Jewish Bible. Verse numbering generally follows the Hebrew tradition, and where modern Christian traditions differ those verse numbers are shown in parentheses (). Haftarah readings generally follow the Ashkenazi tradition. Where the Sephardic tradition differs, the Haftarah portions are designated as (A) and (S). Suggested New Testament readings are taken from various sources. Suggested Psalm readings are from the Messianic Siddur for Shabbat by Daniel Perek. The Key People, The Scenes, and The Main Events are taken from the Walk! series of Messianic Devotion Commentaries by Dr. Jeffrey Enoch Feinberg. Unless otherwise marked, Scripture quotations are taken from the Complete Jewish Bible, Copyright © 1998 and 2016 by David H. Stern. Used by permission. All copyrights reserved worldwide.
This post contains affiliate links. Purchases help support Messianic Torah Portion and do not affect the price you pay. Please do not make purchases on the Sabbath.
Messianic Torah Portion is a ministry of The Messianic Light.