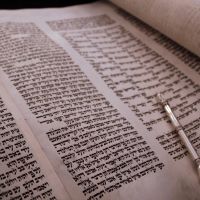 4 Tevet 5781
December 19, 2020
Parashat Miketz
"At The End Of"
Here are the Torah, Haftarah and suggested Brit Chadasha (New Testament) and Tehillim (Psalms) readings for this week.
• Genesis 41:1-44:17
• 1 Kings 3:15-4:1
• Matthew 27:15-46
• Psalm 40
The seven aliyot readings from the Torah begin at these verses:
Genesis 41:1
Genesis 41:15
Genesis 41:39
Genesis 41:53
Genesis 42:19
Genesis 43:16
Genesis 43:30
Maftir: Genesis 44:14 (A) 44:15 (S)
I waited patiently for Adonai. He bent down to me and heard my cry. He brought me up out of the slimy pit, out of the mud and mire. Then He set my feet on a rock. He made my steps firm. He put a new song in my mouth—a hymn of praise to our God. Many will see and fear, and trust in Adonai.
(Psalm 40:2-4 TLV)
In Miketz
The Key People include Par'oh (Pharaoh), his cupbearer, Yosef (renamed Tsaf'nat-Pa'neach), wife Os'nat (Asenath) – daughter of Potifera, M'nasheh (Manasseh), Efrayim (Ephraim), Ya'akov, and the eleven sons.
The Scenes include haY'or (the NIle), Mitzrayim (Egypt), and C'na'an (Canaan).
The Main Events include Par'oh's dream, Yosef's interpretation, new job preparing for famine, brothers' visit, Shim'on jailed, request to see binyamin, second visit, trap to frame Binyamin with stolen cup, the chase and accusation, and Binyamin sentenced to die.
They did not know that Joseph was listening, since there was an interpreter between them. He turned away from them and wept. When he turned back to them and spoke to them, he took Simeon from them and tied him up before their eyes.
(Genesis 42:23-24 TLV)
The Haftarah
Then Solomon awoke and took note of the dream. So he went to Jerusalem, stood before the ark of the covenant of the Lord, and offered up burnt offerings and fellowship offerings. Then he made a feast for all his courtiers. Later two prostitutes came to the king and stood before him.
(1 Kings 3:15-16 TLV)
The Brit Chadasha
Now during the feast, the governor was accustomed to release to the crowd one prisoner, anyone they wanted. At that time they had a notorious prisoner, called Yeshua Bar-Abba. So when they were gathered together, Pilate said to them, "Which one do you want me to release for you? Yeshua who is Bar-Abba, or Yeshua who is called Messiah?"
(Matthew 27:15-17 TLV)
Torah Portion readings and the associated Haftarah readings generally follow the Stone Edition Chumash and/or the Complete Jewish Bible. Verse numbering generally follows the Hebrew tradition, and where modern Christian traditions differ those verse numbers are shown in parentheses (). Haftarah readings generally follow the Ashkenazi tradition. Where the Sephardic tradition differs, the Haftarah portions are designated as (A) and (S). Suggested New Testament readings are taken from various sources. Suggested Psalm readings are from the Messianic Siddur for Shabbat by Daniel Perek. The Key People, The Scenes, and The Main Events are taken from the Walk! series of Messianic Devotion Commentaries by Dr. Jeffrey Enoch Feinberg. Scripture taken from the Tree of Life Version (TLV) © 2015 by the Messianic Jewish Family Bible Society. Used by permission of the Messianic Jewish Family Bible Society.