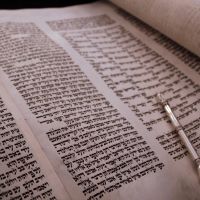 26 Kislev 5781
December 12, 2020
Parashat Vayeshev
"And He Settled"
Here are the Torah, Haftarah and suggested Brit Chadasha (New Testament) and Tehillim (Psalms) readings for this week.
• Genesis 37:1-40:23
• Amos 2:6-3:8
• Matthew 1:1-6; 16-25
• Psalm 112
The seven aliyot readings from the Torah begin at these verses:
Genesis 37:1
Genesis 37:12
Genesis 37:23
Genesis 38:1
Genesis 39:1
Genesis 39:7
Genesis 40:1
Maftir: Genesis 40:20
Halleluyah! Happy is the man who fears Adonai, who delights greatly in His mitzvot. His offspring will be mighty in the land. The generation of the upright will be blessed.
(Psalm 112:1-2 TLV)
In Vayeshev
The Key People include Ya'akov (Jacob)/Yisra'el (Israel), Yoseph (Joseph), brothers, Yishma'elim (Ishmaelites), R'uven (Reuben), Y'hudah (Judah), Potifar (Potiphar) and wife, Bat-Shua (daughter of Shua), Er, Onan, Shelah, Tamar, Peretz (Perez), Zerach (Zerah), warden, cupbearer, and baker.
The Scenes include C'na'an (Canaan), Sh'chem (Shechem), Chevron (Hebron), Dotan (Dothan), Mitzrayim (Egypt), and Enaim.
The Main Events include Ya'akov settling; Yosef's bad report, coat, and dreams; Yosef stripped and sold twice; Y'hudah intermarried, sons killed, twins for Tamar; Yosef promoted, advances by Potifar's wife; Yosef stripped, jailed, promoted; dreams interpreted, but Yosef forgotten.
Then Joseph dreamed a dream and told his brothers—and they hated him even more. He said to them, "Please listen to this dream I dreamed.
(Genesis 37:5-6 TLV)
They said to him, "We dreamed a dream and there is no one to interpret it." Then Joseph said to them, "Don't interpretations belong to God? Please tell me."
(Genesis 40:8 TLV)
The Haftarah
For the Lord Adonai, will do nothing, unless He has revealed His counsel to His servants the prophets. A lion has roared, who will not fear? My Lord Adonai has spoken, who shall not prophesy?
(Amos 3:7-8 TLV)
The Brit Chadasha
But while he considered these things, behold, an angel of Adonai appeared to him in a dream, saying, "Joseph son of David, do not be afraid to take Miriam as your wife, for the Child conceived in her is from the Ruach ha-Kodesh. She will give birth to a son; and you shall call His name Yeshua, for He will save His people from their sins."
(Matthew 1:20-21 TLV)
Torah Portion readings and the associated Haftarah readings generally follow the Stone Edition Chumash and/or the Complete Jewish Bible. Verse numbering generally follows the Hebrew tradition, and where modern Christian traditions differ those verse numbers are shown in parentheses (). Haftarah readings generally follow the Ashkenazi tradition. Where the Sephardic tradition differs, the Haftarah portions are designated as (A) and (S). Suggested New Testament readings are taken from various sources. Suggested Psalm readings are from the Messianic Siddur for Shabbat by Daniel Perek. The Key People, The Scenes, and The Main Events are taken from the Walk! series of Messianic Devotion Commentaries by Dr. Jeffrey Enoch Feinberg. Scripture taken from the Tree of Life Version (TLV) © 2015 by the Messianic Jewish Family Bible Society. Used by permission of the Messianic Jewish Family Bible Society.