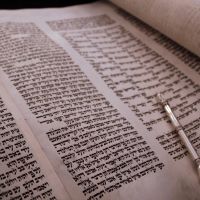 17 Shevat 5781
January 30, 2021
Parashat B'shalach
"When He Let Go"
Here are the Torah, Haftarah and suggested Brit Chadasha (New Testament) and Tehillim (Psalms) readings for this week.
• Exodus 13:17-17:16
• Judges 4:5-5:31 (A)
• Judges 5:1-5:31 (S)
• Revelation 19:1-20:6
• Psalm 66
Come and see the works of God.
How awesome His deeds for the children of Adam!
He turned the sea into dry land.
They crossed the river on foot.
There let us rejoice in Him!
(Psalm 66:5-6 TLV)
The seven aliyot readings from the Torah begin at these verses:
Exodus 13:17
Exodus 14:9
Exodus 14:15
Exodus 14:26
Exodus 15:27
Exodus 16:11
Exodus 17:1
Maftir: Exodus 17:14
In B'shalach
The Key People are Par'oh (Pharaoh), the Israelites, Moshe (Moses), 600 Egyptians on chariots, Miryam (Miriam), Amalek, Y'hoshua (Joshua), Aharon (Aaron), and Hur.
The Scenes include the wilderness to the Red Sea, Sukkot to Eitam (Sukkoth to Etham), Pi haChirot (Pi-hahiroth) before Ba'al Ts'fon (Baal Zephon) by the sea, wilderness of Shur, Marah, Elim, wilderness of Sin, R'fidim (Rephidim), Chorev (Horeb), Massah and M'rivah (Meribah).
The Main Events include Moshe carrying out Yosef's bones, pillars of cloud and fire; chariot chase, parting of the sea, Song of Moshe; bitter waters sweetened; mannah and quail, water from rock; fight against Amalek as Moshe holds up arms, Amalek remains Yisra'el's enemy.
Then Moses and Bnei-Yisrael sang this song to Adonai: I will sing to Adonai, for He is highly exalted! The horse and its rider He has thrown into the sea. Adonai is my strength and song, and He has become my salvation. This is my God, and I will glorify Him, my father's God, and I will exalt Him.
(Exodus 15:1-2 TLV)

The Haftarah
Then Deborah and Barak son of Abinoam sang on that day saying: "When leaders take the lead in Israel, when people freely offer themselves, bless Adonai! Listen, O kings! Give ear, O rulers! I, to Adonai I will sing, I will sing praise to Adonai, the God of Israel.
(Judges 5:1-3 TLV)

The Brit Chadasha
Then I saw thrones, and people sat upon them—those to whom authority to judge was given. And I saw the souls of those who had been beheaded because of their testimony for Yeshua and because of the word of God. They had not worshiped the beast or his image, nor had they received his mark on their forehead or on their hand. And they came to life and reigned with the Messiah for a thousand years. The rest of the dead did not come to life until the thousand years were completed. This is the first resurrection.
(Revelation 20:4-5 TLV)
Torah Portion readings and the associated Haftarah readings generally follow the Stone Edition Chumash and/or the Complete Jewish Bible. Verse numbering generally follows the Hebrew tradition, and where modern Christian traditions differ those verse numbers are shown in parentheses (). Haftarah readings generally follow the Ashkenazi tradition. Where the Sephardic tradition differs, the Haftarah portions are designated as (A) and (S). Suggested New Testament readings are taken from various sources. Suggested Psalm readings are from the Messianic Siddur for Shabbat by Daniel Perek. The Key People, The Scenes, and The Main Events are taken from the Walk! series of Messianic Devotion Commentaries by Dr. Jeffrey Enoch Feinberg. Scripture taken from the Tree of Life Version (TLV) © 2015 by the Messianic Jewish Family Bible Society. Used by permission of the Messianic Jewish Family Bible Society.