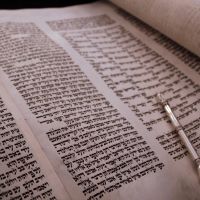 10 Shevat 5781
January 23, 2021
Parashat Bo
"Go"
Here are the Torah, Haftarah and suggested Brit Chadasha (New Testament) and Tehillim (Psalms) readings for this week.
• Exodus 10:1-13:16
• Jeremiah 46:13-28
• John 19:31-37
• Romans 9:14-29
• Psalm 77
O God, Your way is holy.
What god is great like God?
You are the God who works wonders.
You have made Your power known among the peoples.
With your arm You redeemed Your people, the children of Jacob and Joseph. Selah
(Psalm 77:14-16 TLV)
The seven aliyot readings from the Torah begin at these verses:
Exodus 10:1
Exodus 10:12
Exodus 10:24
Exodus 11:4
Exodus 12:21
Exodus 12:29
Exodus 13:1
Maftir: Exodus 13:14
In Va'era
The Key People are Moshe (Moses), Aharon (Aaron), Par'oh (Pharaoh), Par'oh's servants, Egyptians, and Israelites (about 600,000 men, 2 million total).
The Scene is Mitzrayim (Egypt) with a journey from Ra'amses (Ramses) to Sukkot (Sukkoth).
The Main Events include the plagues of locusts and darkness, affecting Egyptians but not Israelites; first Passover with blood on the doorposts, to be observed yearly with matzah; death of the Egyptian firstborns, with Pharaoh kicking out the Israelites; Egyptians urging haste and giving away plunder; Israelites journeying out, exactly 430 years after God prophesied that Avraham's seed would be strangers, enslaved and oppressed; and finally, the firstborns being set apart for God.
Now Adonai had said to Moses, "I will bring one more plague upon Pharaoh and on Egypt. After that, he will let you go from here. When he lets you go, he will surely thrust you out altogether from here.
(Exodus 11:1 TLV)

The Haftarah
Adonai-Tzva'ot, the God of Israel, says: "Behold, I will punish Amon of No, Pharaoh, Egypt, with her gods and her kings—even Pharaoh, and them that trust in him.
(Jeremiah 46:25 TLV)

The Brit Chadasha
For the Scripture says to Pharaoh, "For this very purpose I raised you up—to demonstrate My power in you, so My name might be proclaimed in all the earth."
(Romans 9:17 TLV)

Torah Portion readings and the associated Haftarah readings generally follow the Stone Edition Chumash and/or the Complete Jewish Bible. Verse numbering generally follows the Hebrew tradition, and where modern Christian traditions differ those verse numbers are shown in parentheses (). Haftarah readings generally follow the Ashkenazi tradition. Where the Sephardic tradition differs, the Haftarah portions are designated as (A) and (S). Suggested New Testament readings are taken from various sources. Suggested Psalm readings are from the Messianic Siddur for Shabbat by Daniel Perek. The Key People, The Scenes, and The Main Events are taken from the Walk! series of Messianic Devotion Commentaries by Dr. Jeffrey Enoch Feinberg. Scripture taken from the Tree of Life Version (TLV) © 2015 by the Messianic Jewish Family Bible Society. Used by permission of the Messianic Jewish Family Bible Society.