Sukkot Shabbat Chol haMoed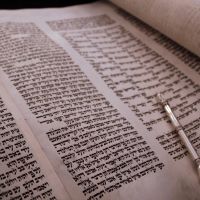 19 Tishrei 5782
September 25, 2021
Sukkot Shabbat
Shabbat Chol HaMoed
Feast of Tabernacles
Sabbath of the Festival
Here are the Torah, Haftarah and suggested Brit Chadasha (New Testament) readings for this week.
• Exodus 33:12-34:26
• Numbers 29:17-22
• Ezekiel 38:18-39:16
• Revelation 19:1-16
So Moses said to Adonai "You say to me, 'Bring up this people,' but You have not let me know whom You will send with me. Yet You have said, 'I know you by name, and you have also found grace in My eyes.' Now then, I pray, if I have found grace in Your eyes, show me Your ways, so that I may know You, so that I might find favor in Your sight. Consider also that this nation is Your people."
"My presence will go with you, and I will give you rest," He answered.
(Exodus 33:12-14 TLV)
The Haftarah
So I will make My holy Name known among My people Israel. I will not let My holy Name be profaned anymore. The nations will know that I am Adonai, the Holy One in Israel. Behold, it is coming. It will be done"—it is a declaration of Adonai—"this is the day that I have spoken about.
(Ezekiel 39:7-8 TLV)

The Brit Chadasha
Then I saw heaven opened, and behold, a white horse! The One riding on it is called Faithful and True, and He judges and makes war in righteousness. His eyes are like a flame of fire, and many royal crowns are on His head. He has a name written that no one knows except Himself. He is clothed in a robe dipped in blood, and the name by which He is called is "the Word of God." And the armies of heaven, clothed in fine linen, white and clean, were following Him on white horses.
(Revelation 19:11-14 TLV)
Torah Portion readings and the associated Haftarah readings generally follow the Stone Edition Chumash and/or the Complete Jewish Bible. Verse numbering generally follows the Hebrew tradition, and where modern Christian traditions differ those verse numbers are shown in parentheses (). Haftarah readings generally follow the Ashkenazi tradition. Where the Sephardic tradition differs, the Haftarah portions are designated as (A) and (S). Suggested New Testament readings are taken from various sources. Scripture taken from the Tree of Life Version (TLV) © 2015 by the Messianic Jewish Family Bible Society. Used by permission of the Messianic Jewish Family Bible Society.