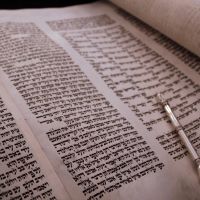 Parashat Mishpatim
"Judgments"
27 Shevat 5782
January 29, 2022
Torah Reading
• Exodus 21:1-24:18
These are the rulings you are to present to them…
(Exodus 21:1 CJB)
Haftarah Reading
• Jeremiah 34:8-22; 33:25-26
New Testament Reading
• Matthew 17:1-13
Suggested Psalm
• Psalm 72
By Shlomo: God, give the king your fairness in judgment,
endow this son of kings with your righteousness,
so that he can govern your people rightly
and your poor with justice.
(Psalm 72:1-2 CJB)
Aliyot
The seven aliyot readings from the Torah begin at these verses:
Exodus 21:1
Exodus 21:20
Exodus 22:4(5)
Exodus 22:27(28)
Exodus 23:6
Exodus 23:20
Exodus 23:26
Maftir: Exodus 23:16 (A) 23:15 (S)
Meditation
In the Days of Messiah, Yeshua stands on the Mount of Transfiguration in the Land of Promise, with Peter, James, and John (Matthew 17:1)… As at Sinai, a bright cloud overshadows the witnesses and a voice calls out. It proclaims that Yeshua is God's Son: "Tishm'u elav (Listen to Him)!" (Matthew 17:5b, Deuteronomy 18″15b). What validated Moshe as prophet now validates Yeshua.
– from Walk Exodus! by Jeffrey Enoch Feinberg, Ph.D., used by permission.
---
Torah Portion readings and the associated Haftarah readings generally follow the Stone Edition Chumash and/or the Complete Jewish Bible. Verse numbering generally follows the Hebrew tradition, and where modern Christian traditions differ those verse numbers are shown in parentheses (). Haftarah readings generally follow the Ashkenazi tradition. Where the Sephardic tradition differs, the Haftarah portions are designated as (A) and (S). Suggested New Testament readings are taken from various sources. Suggested Psalm readings are from the Messianic Siddur for Shabbat by Daniel Perek. The Key People, The Scenes, and The Main Events are taken from the Walk! series of Messianic Devotion Commentaries by Dr. Jeffrey Enoch Feinberg. Unless otherwise marked, Scripture quotations are taken from the Complete Jewish Bible, Copyright © 1998 and 2016 by David H. Stern. Used by permission. All copyrights reserved worldwide.
This post contains affiliate links. Purchases help support Messianic Torah Portion and do not affect the price you pay. Please do not make purchases on the Sabbath.
Messianic Torah Portion is a ministry of The Messianic Light.