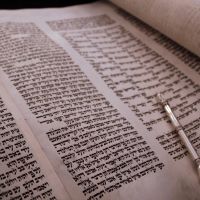 12 Kislev 5781
November 28, 2020
Parashat Vayetze
"And He Went Out"
Here are the Torah, Haftarah and suggested Brit Chadasha (New Testament) and Tehillim (Psalms) readings for this week.
• Genesis 28:10-32:3(2)
• Hosea 12:13(12)-14:10(9) (A)
• Hosea 11:7-12:12(11) (S)
• John 1:19-51
• Psalm 3
The seven aliyot readings from the Torah begin at these verses:
Genesis 28:10
Genesis 29:1
Genesis 29:18
Genesis 30:14
Genesis 30:28
Genesis 31:17
Genesis 31:43
Maftir: Genesis 32:1(31:55)
But You, Adonai, are a shield around me, my glory and the lifter of my head.
I cry out to Adonai with my voice, and He answers me from His holy mountain. Selah
I lie down and sleep. I awake—for Adonai sustains me.
(Psalm 3:4-6 TLV)
In Vayetze
The Key People include Ya'akov (Jacob), Rachel, Lavan (Laban)< Leah, maids, and sons.
The Scenes include B'er Shava (Beersheba), Beit-El/Luz (Bethel), Charan (Haran), Gal'ed (Galeed), and Machanayim (Mahanaim).
The Main Events include Ya'akov's escape, dream of angels ascending and descending, God's promise of family and land, Ya'akov's response to build altar and tithe, 20 years of work (7 for Leah, 7 for Rachel, 6 for livestock), 11 sons born, livestock increase, dream warning Ya'akov to return home, a fast getaway while Lavan chases, the family gods stolen by Rachel, the Lavan/Ya'akov covenant at Gal-ed, and angels greeting Ya'akov at Machanayim.
He dreamed: All of a sudden, there was a stairway set up on the earth and its top reaching to the heavens—and behold, angels of God going up and down on it! Surprisingly, Adonai was standing on top of it and He said, "I am Adonai, the God of your father Abraham and the God of Isaac. The land on which you lie, I will give it to you and to your seed.
(Genesis 28:12-13 TLV)
The Haftarah
Return O Israel, to Adonai your God, for you have stumbled in your iniquity. Take words with you and return to Adonai. Say to Him: "Take away all iniquity, and accept what is good, so we may repay with offerings of our lips
(Hosea 14:2-3(1-2) TLV)
The Brit Chadasha
And He said, "Amen, amen I tell you, you will see heaven opened and the angels of God going up and coming down on the Son of Man!" (John 1:51 TLV)
Torah Portion readings and the associated Haftarah readings generally follow the Stone Edition Chumash and/or the Complete Jewish Bible. Verse numbering generally follows the Hebrew tradition, and where modern Christian traditions differ those verse numbers are shown in parentheses (). Haftarah readings generally follow the Ashkenazi tradition. Where the Sephardic tradition differs, the Haftarah portions are designated as (A) and (S). Suggested New Testament readings are taken from various sources. Suggested Psalm readings are from the Messianic Siddur for Shabbat by Daniel Perek. The Key People, The Scenes, and The Main Events are taken from the Walk! series of Messianic Devotion Commentaries by Dr. Jeffrey Enoch Feinberg. Scripture taken from the Tree of Life Version (TLV) © 2015 by the Messianic Jewish Family Bible Society. Used by permission of the Messianic Jewish Family Bible Society.