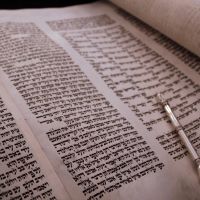 5 Tishrei 5782
September 11, 2021
Parashat Vayelech
"And he went"
Here are the Torah, Haftarah and suggested Brit Chadasha (New Testament) and Tehillim (Psalms) readings for this week.
• Deuteronomy 31:1-30
• Hosea 14:2(1)-10(9); Joel 2:11-27; Micah 7:18-20 (A)
• Hosea 14:2(1)-10(9); Micah 7:18-20 (S)
• John 12:44-13:1
• Romans 10:1-17
• Psalm 65
O You who hear prayer, to You all flesh will come.
Records of sins overwhelm me—You will atone for our transgressions.
Blessed is the one You choose and bring near to dwell in Your courts!
We will be satisfied with the goodness of Your House—Your holy Temple.
(Psalm 65:3-5 TLV)

The seven aliyot readings from the Torah begin at these verses:
Deuteronomy 31:1
Deuteronomy 31:4
Deuteronomy 31:7
Deuteronomy 31:10
Deuteronomy 31:14
Deuteronomy 31:20
Deuteronomy 31:25
Maftir: Deuteronomy 31:28
In Vayelech
The Key People are Moshe (Moses), speaking to all Yisra'el (Israel), and Y'hoshua (Joshua).
The Scene is the wilderness east of the Promised Land, ready to cross over the Yarden (Jordan).
The Main Events include 120-year-old Moshe going out to continue his words for Yisra'el to be strong and of good courage; Y'hoshua's role as Yisra'el's new leader; Moshe writing down Torah to be read every seven years so all can hear and learn to obey; Moshe and Y'hoshua at the Tent of Meeting with God; the LORD telling about Moshe's death and the people's rebellion; a new song for Moshe to write down and teach as a witness against the people; command for Levites to carry the Torah in the ark; and people gathering to hear the HA'AZINU song.
Then Moses summoned Joshua and said to him in the sight of all Israel, "Be strong! Be courageous! For you are to go with this people into the land Adonai has sworn to their fathers to give them, and you are to enable them to inherit it. Adonai—He is the One who goes before you. He will be with you. He will not fail you or abandon you. Do not fear or be discouraged."
(Deuteronomy 31:7-8 TLV)
The Haftarah
Return O Israel, to Adonai your God, for you have stumbled in your iniquity. Take words with you and return to Adonai. Say to Him: "Take away all iniquity, and accept what is good, so we may repay with offerings of our lips:
(Hosea 14:2-3 TLV)

The Brit Chadasha
Yeshua cried out, "Whoever puts trust in Me believes not in Me but in the One who sent Me! And whoever beholds Me beholds the One who sent Me. As light I have come into the world, so that everyone who trusts in Me should not remain in darkness.
(John 12:44-46 TLV)

Torah Portion readings and the associated Haftarah readings generally follow the Stone Edition Chumash and/or the Complete Jewish Bible. Verse numbering generally follows the Hebrew tradition, and where modern Christian traditions differ those verse numbers are shown in parentheses (). Haftarah readings generally follow the Ashkenazi tradition. Where the Sephardic tradition differs, the Haftarah portions are designated as (A) and (S). Suggested New Testament readings are taken from various sources. Suggested Psalm readings are from the Messianic Siddur for Shabbat by Daniel Perek. The Key People, The Scenes, and The Main Events are taken from the Walk! series of Messianic Devotion Commentaries by Dr. Jeffrey Enoch Feinberg. Scripture taken from the Tree of Life Version (TLV) © 2015 by the Messianic Jewish Family Bible Society. Used by permission of the Messianic Jewish Family Bible Society.