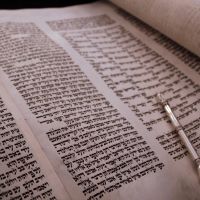 Parashat Vayechi
"And He Lived"
14 Tevet 5782
December 18, 2021
Torah Reading
• Genesis 47:28-50:26
Ya`akov lived in the land of Egypt…
(Genesis 47:28 CJB)
Haftarah Reading
• 1 Kings 2:1-12
New Testament Reading
• 1 Peter 1:1-9
Suggested Psalm
• Psalm 41
Blessed be Adonai the God of Isra'el from eternity past to eternity future. Amen. Amen.
(Psalm 41:14 CJB)
Aliyot
The seven aliyot readings from the Torah begin at these verses:
Genesis 47:28
Genesis 48:10
Genesis 48:17
Genesis 49:1
Genesis 49:19
Genesis 49:27
Genesis 50:21
Maftir: Genesis 50:23
chazak chazak v'nit'chazek
Be strong! Be Strong! And let us be strengthened!
Meditation
Even Yisra'el and believers alike, our inheritance is reserved; and believers are protected until they come into the inheritance by God's power. Until then, one waits with joy to inherit the blessing (1 Peter 1:8).
– from Walk Genesis! by Jeffrey Enoch Feinberg, Ph.D., used by permission.
---
Torah Portion readings and the associated Haftarah readings generally follow the Stone Edition Chumash and/or the Complete Jewish Bible. Verse numbering generally follows the Hebrew tradition, and where modern Christian traditions differ those verse numbers are shown in parentheses (). Haftarah readings generally follow the Ashkenazi tradition. Where the Sephardic tradition differs, the Haftarah portions are designated as (A) and (S). Suggested New Testament readings are taken from various sources. Suggested Psalm readings are from the Messianic Siddur for Shabbat by Daniel Perek. The Key People, The Scenes, and The Main Events are taken from the Walk! series of Messianic Devotion Commentaries by Dr. Jeffrey Enoch Feinberg. Unless otherwise marked, Scripture quotations are taken from the Complete Jewish Bible, Copyright © 1998 and 2016 by David H. Stern. Used by permission. All copyrights reserved worldwide.
This post contains affiliate links. Purchases help support Messianic Torah Portion and do not affect the price you pay. Please do not make purchases on the Sabbath.
Messianic Torah Portion is a ministry of The Messianic Light.