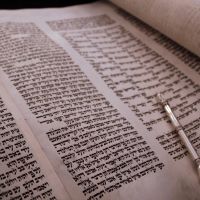 18 Tevet 5781
January 2, 2020
Parashat Vayechi
"And He Lived"
Here are the Torah, Haftarah and suggested Brit Chadasha (New Testament) and Tehillim (Psalms) readings for this week.
• Genesis 47:28-50:26
• 1 Kings 2:1-12
• 1 Peter 1:1-9
• Psalm 41
The seven aliyot readings from the Torah begin at these verses:
Genesis 47:28
Genesis 48:10
Genesis 48:17
Genesis 49:1
Genesis 49:19
Genesis 49:27
Genesis 50:21
Maftir: Genesis 50:23
chazak chazak v'nit'chazek
Be strong! Be Strong! And let us be strengthened!
You uphold me in my integrity and set me before Your face forever. Blessed be Adonai, the God of Israel, from everlasting to everlasting. Amen and amen!
(Psalm 41:13-14 TLV)
In Vayechi
The Key People include Ya'akov (Jacob), Yosef (Joseph), Efrayim (Ephraim), M'nasheh (Manasseh), all the sons, and Par'oh (Pharaoh).
The Scenes include Mitzrayim (Egypt), C'na'an (Canaan), Sh'chem (Shechem), Cave of Machpelah, Goshen, ana Avel Mitzrayim (Abel-mizraim).
The Main Events include Ya'akov's 17 years in Egypt, request for burial with fathers, adoption of Efrayim and M'nasheh, younger son getting the bigger blessing, Ya'akov's final words for each tribe, Y'hudah's position of praise, Ya'akov's death, burial in C'na'an, brothers fearing Yosef again, Yosef's reassurance, and Yosef's death at 110 – declaring God will bring them out again and they must carry his bones back to rest in the Land.
Then Joseph said to his brothers, "I'm about to die. But God will surely take notice of you and will bring you up from this land to the land that He swore to Abraham, to Isaac, and to Jacob." Then Joseph made Israel's sons swear an oath saying, "When God takes notice of you, you will bring my bones up from here." So Joseph died at 110 years old, and they embalmed him and he was placed in a coffin in Egypt.
(Genesis 50:24-26 TLV)
The Haftarah
Then David slept with his fathers and was buried in the city of David. The days that David reigned over Israel were forty years—seven years he reigned in Hebron and 33 years he reigned in Jerusalem. Then Solomon sat upon the throne of his father David, and his kingdom was established firmly. Solomon's Throne Secured
(1 Kings 2:10-12 TLV)
The Brit Chadasha
Though you have not seen Him, you love Him. And even though you don't see Him now, you trust Him and are filled with a joy that is glorious beyond words, receiving the outcome of your faith—the salvation of your souls.
(1 Peter 1:8-9 TLV)
Torah Portion readings and the associated Haftarah readings generally follow the Stone Edition Chumash and/or the Complete Jewish Bible. Verse numbering generally follows the Hebrew tradition, and where modern Christian traditions differ those verse numbers are shown in parentheses (). Haftarah readings generally follow the Ashkenazi tradition. Where the Sephardic tradition differs, the Haftarah portions are designated as (A) and (S). Suggested New Testament readings are taken from various sources. Suggested Psalm readings are from the Messianic Siddur for Shabbat by Daniel Perek. The Key People, The Scenes, and The Main Events are taken from the Walk! series of Messianic Devotion Commentaries by Dr. Jeffrey Enoch Feinberg. Scripture taken from the Tree of Life Version (TLV) © 2015 by the Messianic Jewish Family Bible Society. Used by permission of the Messianic Jewish Family Bible Society.