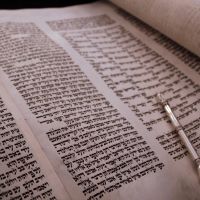 15 Av 5781
July 24, 2021
Parashat Va'etchanan
"And I pleaded"
Here are the Torah, Haftarah and suggested Brit Chadasha (New Testament) and Tehillim (Psalms) readings for this week.
• Deuteronomy 3:23-7:11
• Isaiah 40:1-26
• Matthew 23:31-39
• Psalm 90
A prayer of Moses the man of God.
My Lord, You have been our dwelling from generation to generation.
Before the mountains were born, or You gave birth to the earth and the world,
even from everlasting to everlasting, You are God!
(Psalm 90:1-2 TLV)
The seven aliyot readings from the Torah begin at these verses:
Deuteronomy 3:23
Deuteronomy 4:5
Deuteronomy 4:41(A) 5:1(S)
Deuteronomy 5:1(A) 5:19(22)(S)
Deuteronomy 5:19(22)(A) 6:4(S)
Deuteronomy 6:4(A) 6:10(S)
Deuteronomy 7:1
Maftir: Deuteronomy 7:9
In Va'etchanan
The Key Person is Moshe (Moses), speaking to all Yisra'el (Israel).
The Scene is the wilderness east of the Promised Land, waiting to cross over the Yarden (Jordan).
The Main Events include more of Moshe's words: his plea to enter the Land, God's "No," using God's ways to lead by example, warning against idolatry, honoring the LORD as God, cities of refuge, the Ten Commandments repeated for the next generation, Sh'ma Yisra'el and v'ahavta (Hear, O Israel … and you shall love …), and a reminder that God will be faithful to keep His covenant with those who obey.
Know therefore that Adonai your God, He is God—the faithful God who keeps covenant kindness for a thousand generations with those who love Him and keep His mitzvot, but repays those who hate Him to their face, to annihilate them. He will not hesitate with him who hates Him; He will repay him to his face. Therefore you are to keep the commandment—both the statutes and the ordinances—that I am commanding you today, to do them.
(Deuteronomy 7:9-11 TLV)

The Haftarah
"Comfort, comfort My people," says your God. Speak kindly to the heart of Jerusalem and proclaim to her that her warfare has ended, that her iniquity has been removed. For she has received from Adonai's hand double for all her sins.
(Isaiah 40:1-2 TLV)

The Brit Chadasha
"O Jerusalem, Jerusalem who kills the prophets and stones those sent to her! How often I longed to gather your children together, as a hen gathers her chicks under her wings, but you were not willing! Look, your house is left to you desolate! For I tell you, you will never see Me again until you say, 'Baruch ha-ba b'shem Adonai. Blessed is He who comes in the name of the Lord!'"
(Matthew 23:37-39 TLV)
Torah Portion readings and the associated Haftarah readings generally follow the Stone Edition Chumash and/or the Complete Jewish Bible. Verse numbering generally follows the Hebrew tradition, and where modern Christian traditions differ those verse numbers are shown in parentheses (). Haftarah readings generally follow the Ashkenazi tradition. Where the Sephardic tradition differs, the Haftarah portions are designated as (A) and (S). Suggested New Testament readings are taken from various sources. Suggested Psalm readings are from the Messianic Siddur for Shabbat by Daniel Perek. The Key People, The Scenes, and The Main Events are taken from the Walk! series of Messianic Devotion Commentaries by Dr. Jeffrey Enoch Feinberg. Scripture taken from the Tree of Life Version (TLV) © 2015 by the Messianic Jewish Family Bible Society. Used by permission of the Messianic Jewish Family Bible Society.