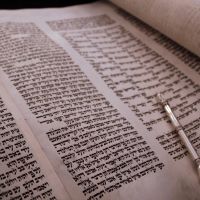 3 Shevat 5781
January 16, 2021
Parashat Va'era
"And I Appeared"
Here are the Torah, Haftarah and suggested Brit Chadasha (New Testament) and Tehillim (Psalms) readings for this week.
• Exodus 6:2-9:35
• Ezekiel 28:25-29:21
• Revelation 16:1-21
• Psalm 46
"Be still, and know that I am God. I am exalted among the nations. I am exalted in the earth." Adonai-Tzva'ot is with us. The God of Jacob is our strong tower. Selah
(Psalm 46:11-12 TLV)
The seven aliyot readings from the Torah begin at these verses:
Exodus 6:2
Exodus 6:14
Exodus 6:29
Exodus 7:8
Exodus 8:7(11)
Exodus 8:19(23)
Exodus 9:17
Maftir: Exodus 9:33
In Va'era
The Key People are Moshe (Moses), Aharon (Aaron), Par'oh (Pharaoh), and the musicians.
The Scenes is Mitzrayim (Egypt).
The Main Events include God identifying himself as יהוה – God of the Covenant; Moshe's reluctance to lead; lineage cited to validate Moshe and Aharon; wonders performed with staff becoming snake; plagues of blood, frogs, lice, flies, cattle dying, and boils; Pharaoh's heart hardened first by self and later by God; plague of hail with warning to seek shelter; Pharaoh backing down, but only while under pressure, and then hardening his own heart again.
Therefore say to Bnei-Yisrael: I am Adonai, and I will bring you out from under the burdens of the Egyptians. I will deliver you from their bondage, and I will redeem you with an outstretched arm and with great judgments. I will take you to Myself as a people, and I will be your God. You will know that I am Adonai your God, who brought you out from under the burdens of the Egyptians. So I will bring you into the land that I swore to give to Abraham, to Isaac and to Jacob, and give it to you as an inheritance. I am Adonai."
(Exodus 6:6-8 TLV)

The Haftarah
Son of man, set your face against Pharaoh king of Egypt. Prophesy against him and against all Egypt, speak and say, thus says Adonai Elohim: ''Behold, I am against you, Pharaoh King of Egypt, the great crocodile lying in his rivers, who says: 'My Nile is my own—I made it for myself.'"
(Ezekiel 29:2-3 TLV)

The Brit Chadasha
Then the great city was split into three parts, and the cities of the nations collapsed. Babylon the great was remembered before God, to force her to drink the cup of the wine of His furious wrath. Every island fled away, and no mountains were to be found. Enormous hail—about a hundred pounds each—falls from heaven on the people. And the people cursed God because of the plague of hail—so extreme was that plague.
(Revelation 16:19-21 TLV)

Torah Portion readings and the associated Haftarah readings generally follow the Stone Edition Chumash and/or the Complete Jewish Bible. Verse numbering generally follows the Hebrew tradition, and where modern Christian traditions differ those verse numbers are shown in parentheses (). Haftarah readings generally follow the Ashkenazi tradition. Where the Sephardic tradition differs, the Haftarah portions are designated as (A) and (S). Suggested New Testament readings are taken from various sources. Suggested Psalm readings are from the Messianic Siddur for Shabbat by Daniel Perek. The Key People, The Scenes, and The Main Events are taken from the Walk! series of Messianic Devotion Commentaries by Dr. Jeffrey Enoch Feinberg. Scripture taken from the Tree of Life Version (TLV) © 2015 by the Messianic Jewish Family Bible Society. Used by permission of the Messianic Jewish Family Bible Society.