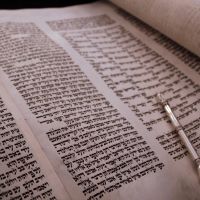 5 Iyyar 5781
April 17, 2021
Parashat Tazria
"She Bears Seed"
Parashat Metzorah
"Infected One"
Here are the Torah, Haftarah and suggested Brit Chadasha (New Testament) and Tehillim (Psalms) readings for this week.
Tazria
• Leviticus 12:1-13:59
• 2 Kings 4:42-5:19
• Luke 7:18-35
• Psalm 106
Blessed be Adonai, the God of Israel, from everlasting even to everlasting!
Let all the people say, "Amen!" Halleluyah!
(Psalm 106:48 TLV)
Metzorah
• Leviticus 14:1-15:33
• 2 Kings 7:3-20
• Matthew 23:16-24:2, 24:30-31
• Psalm 120
A Song of Ascents.
In my trouble I cried out to Adonai, and He answered me.
Adonai, deliver my soul from lying lips, from a deceitful tongue.
(Psalm 120:1-2 TLV)
The seven aliyot readings from the Torah for the combined portions Tazria and Metzorah begin at these verses:
Leviticus 12:1
Leviticus 13:24
Leviticus 13:38
Leviticus 13:55
Leviticus 14:21
Leviticus 14:33
Leviticus 15:16
Maftir: Leviticus 15:31
In Tazria and Metzorah
The Key People include Moshe (Moses), Aharon (Aaron) Aharon's and sons.
The Scenes is the tabernacle in wilderness of Sinai.
The Main Events in Tazria include the LORD speaking to Moshe concerning women at childbirth; purification ; various skin diseases; the role of the priest as hygiene inspector; unclean people dwelling outside the camp; and procedures to follow in examining fabric with mildew.
The Main Events in Metzorah include procedures for dealing with skin diseases, rites of purification, and infection in stone houses; laws for people entering such places; and more laws about discharges, bathing, and the length of time of impurity. All regulations are designed to separate the children of Yisra'el from their uncleanness, so they do not walk in impurity or defile the altar of God's tabernacle.
This is the Torah for any mark of tza'arat—even for a scab, or the tza'arat in a garment or for a house or for a swelling, a scab, or a bright spot— to teach when it is unclean, and when it is clean. This is the Torah of tza'arat.
(Leviticus 14:54-57 TLV)
"So you are to keep Bnei-Yisrael separate from their uncleanness, so they will not die in their uncleanness by defiling My Tabernacle that is in their midst."
(Leviticus 15:31 TLV)
The Haftarah
So Elisha sent him a messenger, saying, "Go and wash in the Jordan seven times, and your flesh will be restored, and you will be clean." So, he went down and dipped himself seven times in the Jordan, according to the word of the man of God. Then his flesh was restored like the flesh of a little child, and he was clean. When he returned with his entire retinue to the man of God, and came and stood before him, he said, "Behold, now I know that there is no God in all the earth except in Israel."
(2 Kings 5:10-15 TLV)

The Brit Chadasha
When they appeared before Him, the men said, "John the Immerser sent us to you, saying, 'Are you the One who is to come, or shall we look for another?'" At this very hour He was healing many of diseases, sicknesses, and evil spirits; and He granted sight to many who were blind. And answering, He said to them, "Go report to John what you saw and heard: the blind see, the lame walk, those with tza'arat are cleansed, the deaf hear, the dead are raised, and the poor have good news proclaimed to them. Blessed is he who is not led to stumble because of Me."
(Luke 7:20-23 TLV)
Torah Portion readings and the associated Haftarah readings generally follow the Stone Edition Chumash and/or the Complete Jewish Bible. Verse numbering generally follows the Hebrew tradition, and where modern Christian traditions differ those verse numbers are shown in parentheses (). Haftarah readings generally follow the Ashkenazi tradition. Where the Sephardic tradition differs, the Haftarah portions are designated as (A) and (S). Suggested New Testament readings are taken from various sources. Suggested Psalm readings are from the Messianic Siddur for Shabbat by Daniel Perek. The Key People, The Scenes, and The Main Events are taken from the Walk! series of Messianic Devotion Commentaries by Dr. Jeffrey Enoch Feinberg. Scripture taken from the Tree of Life Version (TLV) © 2015 by the Messianic Jewish Family Bible Society. Used by permission of the Messianic Jewish Family Bible Society.