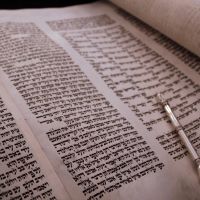 Parashat Tazria
"She Bears Seed"
1 Aviv 5782
April 2, 2022
Torah Reading
• Leviticus 12:1-13:59
Adonai said to Moshe,
"Tell the people of Isra'el: 'If a woman conceives and gives birth to a boy…'"
(Leviticus 12:1-2 CJB)
Haftarah Reading
• 2 Kings 4:42-5:19
New Testament Reading
• Luke 7:18-35
Suggested Psalm
• Psalm 106
Halleluyah!
Give thanks to Adonai; for he is good,
for his grace continues forever.
Who can express Adonai's mighty doings
or proclaim in full his praise?
How happy are those who act justly,
who always do what is right!
(Psalms 106:1-3 CJB)
Aliyot
The seven aliyot readings from the Torah begin at these verses:
Leviticus 12:1
Leviticus 13:6
Leviticus 13:18
Leviticus 13:24
Leviticus 13:29
Leviticus 13:38
Leviticus 13:55
Maftir: Leviticus 13:57
Meditation
Messiah… cleanses those who are most excluded from the activities of life and from the camp of Yisra'el, and he draws them near to God. The socially ostracized glory in the newness of life that Messiah brings. Yeshua's deeds offer hope to the social outcasts among the people (Isaiah 35:5-6). The walking dead jump for life!
– from Walk Leviticus! by Jeffrey Enoch Feinberg, Ph.D., used by permission.
---
Torah Portion readings and the associated Haftarah readings generally follow the Stone Edition Chumash and/or the Complete Jewish Bible. Verse numbering generally follows the Hebrew tradition, and where modern Christian traditions differ those verse numbers are shown in parentheses (). Haftarah readings generally follow the Ashkenazi tradition. Where the Sephardic tradition differs, the Haftarah portions are designated as (A) and (S). Suggested New Testament readings are taken from various sources. Suggested Psalm readings are from the Messianic Siddur for Shabbat by Daniel Perek. The Key People, The Scenes, and The Main Events are taken from the Walk! series of Messianic Devotion Commentaries by Dr. Jeffrey Enoch Feinberg. Unless otherwise marked, Scripture quotations are taken from the Complete Jewish Bible, Copyright © 1998 and 2016 by David H. Stern. Used by permission. All copyrights reserved worldwide.
This post contains affiliate links. Purchases help support Messianic Torah Portion and do not affect the price you pay. Please do not make purchases on the Sabbath.
Messianic Torah Portion is a ministry of The Messianic Light.