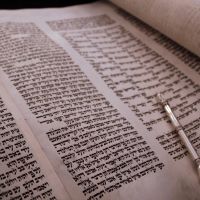 Parashat Shoftim
"Judges"
7 Elul 5782
September 3, 2022
Torah Reading
• Deuteronomy 16:18-21:9
You are to appoint judges and officers for all your gates [in the cities] Adonai your God is giving you…
(Deuteronomy 16:18 CJB)
Haftarah Reading
• Isaiah 51:12-52:12
New Testament Reading
• Matthew 3:1-17
Suggested Psalm
• Psalm 17
Now I call on you, God, for you will answer me.
Turn your ear to me, hear my words.
Show how wonderful is your grace,
savior of those who seek at your right hand
refuge from their foes.
Protect me like the pupil of your eye,
hide me in the shadow of your wings
(Psalm 17:6-8 CJB)

Aliyot
The seven aliyot readings from the Torah begin at these verses:
Deuteronomy 16:18
Deuteronomy 17:14
Deuteronomy 18:1
Deuteronomy 18:6
Deuteronomy 18:14
Deuteronomy 19:14
Deuteronomy 20:10
Maftir: Deuteronomy 21:7
Meditation
Remember He [God] is the guarantor of justice, not the human institutions and people surrounding you. Mankind will fail you. Only God knows the real truth, and only God cares enough to preserve those things which you value most.
– from Walk Deuteronomy! by Jeffrey Enoch Feinberg, Ph.D., used by permission.
---
Torah Portion readings and the associated Haftarah readings generally follow the Stone Edition Chumash and/or the Complete Jewish Bible. Verse numbering generally follows the Hebrew tradition, and where modern Christian traditions differ those verse numbers are shown in parentheses (). Haftarah readings generally follow the Ashkenazi tradition. Where the Sephardic tradition differs, the Haftarah portions are designated as (A) and (S). Suggested New Testament readings are taken from various sources. Suggested Psalm readings are from the Messianic Siddur for Shabbat by Daniel Perek. The Key People, The Scenes, and The Main Events are taken from the Walk! series of Messianic Devotion Commentaries by Dr. Jeffrey Enoch Feinberg. Unless otherwise marked, Scripture quotations are taken from the Complete Jewish Bible, Copyright © 1998 and 2016 by David H. Stern. Used by permission. All copyrights reserved worldwide.
This post contains affiliate links. Purchases help support Messianic Torah Portion and do not affect the price you pay. Please do not make purchases on the Sabbath.
Messianic Torah Portion is a ministry of The Messianic Light.