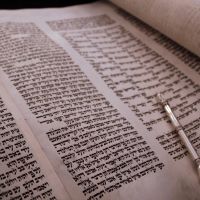 25 Tevet 5781
January 9, 2021
Parashat Shemot
"Names"
Here are the Torah, Haftarah and suggested Brit Chadasha (New Testament) and Tehillim (Psalms) readings for this week.
• Exodus 1:1-6:1
• Isaiah 27:6-28:13, 29:22-23 (A)
• Jeremiah 1:1-2:3 (S)
• Mark 12:18-27
• 1 Corinthians 14:13-25
• Psalm 99
The seven aliyot readings from the Torah begin at these verses:
Exodus 1:1
Exodus 1:18
Exodus 2:11
Exodus 3:1
Exodus 3:16
Exodus 4:18
Exodus 5:1
Maftir: Exodus 5:22
Exalt Adonai our God, and worship at His holy hill, for holy is Adonai our God.
(Psalm 99:9 TLV)
In Shemot
The Key People include descendants of Ya'akov (Jacob), a new Par'oh (Pharaoh), midwives, Moshe (Moses), Miryam (Miriam), Tsiporah (Zipporah), Pharaoh's daughter, Yitro (Jethro), Gershom, and Aharon (Aaron).
The Scenes include Mitzrayim (Egypt), Midyan (Midian), and Chorev (Mt. Horeb in Sinai).
The Main Events include Ya'akov's family multiplying, enslaved in Egypt; baby Moshe hidden in basket, rescued, raised in palace, killing an Egyptian, fleeing to Midyan, and marrying; God's call from the burning bush, identifed as , staff, signs, wonders, and Aharon as spokesman; first encounter with Pharaoh and tougher slavery without straw for bricks.
ADONAI said to Moses, "Now you will see what I am going to do to Pharaoh. By way of a strong hand he will let them go, and drive them out of his land."
(Exodus 6:1 TLV)
The Haftarah
Therefore, thus says ADONAI, Redeemer of Abraham, concerning the house of Jacob: "Jacob will no longer be ashamed, no longer will his face grow pale; for when he sees his children, the work of My hands in his midst, they will sanctify My Name; they will sanctify the Holy One of Jacob, and stand in awe of the God of Israel.
(Isaiah 29:22-23 TLV)
The Brit Chadasha
"But concerning the dead being raised, haven't you read in the book of Moses about the burning bush? How God said to him, 'I am the God of Abraham, and the God of Isaac, and the God of Jacob'? He's not the God of the dead, but of the living."
(Mark 12:26-27 TLV))
Torah Portion readings and the associated Haftarah readings generally follow the Stone Edition Chumash and/or the Complete Jewish Bible. Verse numbering generally follows the Hebrew tradition, and where modern Christian traditions differ those verse numbers are shown in parentheses (). Haftarah readings generally follow the Ashkenazi tradition. Where the Sephardic tradition differs, the Haftarah portions are designated as (A) and (S). Suggested New Testament readings are taken from various sources. Suggested Psalm readings are from the Messianic Siddur for Shabbat by Daniel Perek. The Key People, The Scenes, and The Main Events are taken from the Walk! series of Messianic Devotion Commentaries by Dr. Jeffrey Enoch Feinberg. Scripture taken from the Tree of Life Version (TLV) © 2015 by the Messianic Jewish Family Bible Society. Used by permission of the Messianic Jewish Family Bible Society.