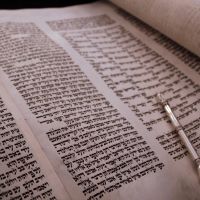 22 Tishrei 5781
October 10, 2020
Shemini Atzeret
Eighth Day Assembly
Here are the Torah, Haftarah and suggested Brit Chadasha (New Testament) readings for Shemini Atzeret.
• Deuteronomy 14:22-16:17
• Numbers 29:35-30:1
• 1 Kings 8:54-9:1
• Matthew 17:1-9
You will surely set aside a tenth of all the yield of your seed that comes from the field year by year. You are to eat the tithe of your grain, your new wine, your oil, and the firstborn of your herd and flock, before Adonai your God in the place He chooses to make His Name dwell, so that you may learn to fear Adonai your God always. Now suppose the way is too long for you, for you cannot carry the tithe because the place Adonai your God chooses to set His Name is too far from you. When Adonai your God blesses you, then you are to exchange the tithe for silver, bind up the silver in your hand, and go to the place that Adonai your God chooses. You may spend the money for whatever your soul desires—cattle, sheep, wine, strong drink, or whatever your soul asks of you. Then you will eat there before Adonai your God and rejoice—you and your household.
(Deuteronomy 14:22-26 TLV)

On the eighth day there shall be for you an assembly. You are to do no regular work.
(Numbers 29:35 TLV)

The Haftarah
When Solomon finished praying this entire prayer and petition to Adonai, he arose from before the altar of Adonai, from kneeling on his knees with his hands spread out toward heaven. Then he stood and blessed all the congregation of Israel with a loud voice, saying: "Blessed be Adonai who has given rest to His people Israel, according to all that He promised. Not a single word has failed of all His good promise, which He promised by the hand of Moses His servant.
(1 Kings 8:54-56 TLV)

The Brit Chadasha
And behold, Moses and Elijah appeared to them, talking with Yeshua. Peter responded to Yeshua, "Master, it's good for us to be here! If You wish, I will make three sukkot here—one for You, and one for Moses, and one for Elijah." While He was still speaking, suddenly a bright cloud overshadowed them; and behold, a voice from out of the cloud, saying, "This is My Son, whom I love; with Him I am well pleased. Listen to Him!"
(Matthew 17:3-5 TLV)
Torah Portion readings and the associated Haftarah readings generally follow the Stone Edition Chumash and/or the Complete Jewish Bible. Verse numbering generally follows the Hebrew tradition, and where modern Christian traditions differ those verse numbers are shown in parentheses (). Haftarah readings generally follow the Ashkenazi tradition. Where the Sephardic tradition differs, the Haftarah portions are designated as (A) and (S). Suggested New Testament readings are taken from the Walk! series of Messianic Devotion Commentaries by Dr. Jeffrey Enoch Feinberg. The Key People, The Scenes, and The Main Events are taken from various sources including the Walk! series of Messianic Devotion Commentaries by Dr. Jeffrey Enoch Feinberg. Scripture taken from the Tree of Life Version (TLV) © 2015 by the Messianic Jewish Family Bible Society. Used by permission of the Messianic Jewish Family Bible Society.