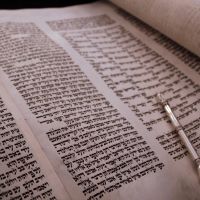 21 Aviv 5781
April 3, 2021
Pesach Shabbat
Shabbat Chol HaMoed
Passover Sabbath
Sabbath of the Festival
Here are the Torah, Haftarah and suggested Brit Chadasha (New Testament) readings for this Festival.
On the seventh day, you are to have a sacred assembly, and you are to do no laborious work.
(Numbers 28:25 TLV)
• Exodus 33:12-34:24
• Numbers 28:19-25
• Ezekiel 37:1-14 
• John 11:38-57
"You are to keep the Feast of Matzot. For seven days you are eat matzot, as I commanded you, at the time appointed in the month Aviv, for in the month Aviv you came out from Egypt. "Every firstborn of the womb is Mine, and from all your cattle you are to sanctify the males, the firstborn of the ox and sheep. A firstborn donkey you are to redeem with a lamb, but if you do not redeem it, then you are to break its neck. You must redeem all your firstborn sons. No one should appear before Me empty-handed. "For six days you will work, but on the seventh day you will rest. During plowing time and harvest you must rest.
(Exodus 34:18-21 TLV)

The Haftarah
Therefore prophesy and say to them, thus says Adonai Elohim: 'Behold, I will open your graves. I will bring you up out of your graves, My people. I will bring you back to the land of Israel. You will know that I am Adonai, when I have opened your graves and brought you up out of your graves, My people. I will put My Ruach in you and you will live. I will place you in your own land. Then you will know that I, Adonai, have spoken and that I have done it." It is a declaration of Adonai.
(Ezekiel 37:12-14 TLV)
The Brit Chadasha
But one of them, Caiaphas, who was kohen gadol that year, said to them, "You know nothing! You don't take into account that it is better for you that one man die for the people rather than for the whole nation to be destroyed." Now he did not say this by himself; but as the kohen gadol that year, he prophesied that Yeshua would die for the nation. And not for the nation only, but also so that He might gather together into one the scattered children of God. So from that day on, they plotted to kill Him. Therefore Yeshua no longer walked openly among the Judeans, but went from there to the country near the wilderness, to a city called Ephraim. He stayed there with His disciples. Now the Jewish Passover was near; and many people went up out of the regions to Jerusalem before Passover, to purify themselves.
(John 11:49-55 TLV)
Torah Portion readings and the associated Haftarah readings generally follow the Stone Edition Chumash and/or the Complete Jewish Bible. Verse numbering generally follows the Hebrew tradition, and where modern Christian traditions differ those verse numbers are shown in parentheses (). Haftarah readings generally follow the Ashkenazi tradition. Where the Sephardic tradition differs, the Haftarah portions are designated as (A) and (S). Suggested New Testament readings are taken from various sources. Scripture taken from the Tree of Life Version (TLV) © 2015 by the Messianic Jewish Family Bible Society. Used by permission of the Messianic Jewish Family Bible Society.