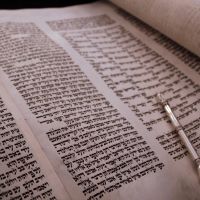 27 Elul 5781
September 4, 2021
Parashat Nitsavim
"You are standing"
Here are the Torah, Haftarah and suggested Brit Chadasha (New Testament) and Tehillim (Psalms) readings for this week.
• Deuteronomy 29:9(10)-30:20
• Isaiah 61:10-63:9
• John 15:1-11
• Psalm 81
For the music director, on the Gittite lyre, of Asaph.
Sing for joy to God our strength, shout to the God of Jacob!
Lift up a song and sound a tambourine, a sweet lyre with a harp.
Blow the shofar at the New Moon, at the full moon for the day of our festival.
(Psalm 81:1-4 TLV)

The seven aliyot readings from the Torah begin at these verses:
Deuteronomy 29:9(10)
Deuteronomy 29:12(13)
Deuteronomy 29:15(16)
Deuteronomy 30:1
Deuteronomy 30:7
Deuteronomy 30:11
Deuteronomy 30:15
Maftir: Deuteronomy 30:18
In Nitsavim
The Key Person is Moshe (Moses), speaking to all Yisra'el (Israel).
The Scene is the wilderness east of the Promised Land, ready to cross over the Yarden (Jordan).
The Main Events include all Yisra'el standing before ADONAI to enter His covenant; Moshe warning that idolatry will defile land and scatter people; choice between blessing and curse, life and death; God's promise to regather us; reminder that Torah is in our mouths and hearts, not too hard to obey; command to choose life and listen to God's Voice, so you and your sons will love long in the Land God promised to Avraham, Yitzchak and Ya'akov.
See, I have set before you today life and good, and death and evil. What I am commanding you today is to love Adonai your God, to walk in His ways, and to keep His mitzvot, statutes and ordinances. Then you will live and multiply, and Adonai your God will bless you in the land you are going in to possess.
(Deuteronomy 30:15-16 TLV)

The Haftarah
For Zion's sake I will not keep silent, for Jerusalem's sake I will not rest, until her righteousness shines out brightly, and her salvation as a blazing torch. Nations will see your righteousness, and all kings your glory. You will be called by a new name, which Adonai's mouth will bestow. You will also be a crown of beauty in the hand of Adonai, and a royal diadem in the hand of your God.
(Isaiah 62:1-3 TLV)

The Brit Chadasha
Just as the Father has loved Me, I also have loved you. Abide in My love! If you keep My commandments, you will abide in My love, just as I have kept My Father's commandments and abide in His love. These things I have spoken to you so that My joy may be in you, and your joy may be full.
(John 15:9-11 TLV)

Torah Portion readings and the associated Haftarah readings generally follow the Stone Edition Chumash and/or the Complete Jewish Bible. Verse numbering generally follows the Hebrew tradition, and where modern Christian traditions differ those verse numbers are shown in parentheses (). Haftarah readings generally follow the Ashkenazi tradition. Where the Sephardic tradition differs, the Haftarah portions are designated as (A) and (S). Suggested New Testament readings are taken from various sources. Suggested Psalm readings are from the Messianic Siddur for Shabbat by Daniel Perek. The Key People, The Scenes, and The Main Events are taken from the Walk! series of Messianic Devotion Commentaries by Dr. Jeffrey Enoch Feinberg. Scripture taken from the Tree of Life Version (TLV) © 2015 by the Messianic Jewish Family Bible Society. Used by permission of the Messianic Jewish Family Bible Society.