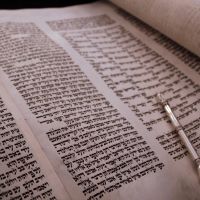 Parashat Mattot
"Tribes"
24 Tamuz 5782
July 23, 2022
Alternate date outside Israel (why?):
(Combined with Massei)
2 Av 5782
July 30, 2022
Torah Reading
• Numbers 30:2(1)-32:42
Then Moshe spoke to the heads of the tribes of the people of Isra'el.
(Numbers 30:2 CJB)

Haftarah Reading
• Jeremiah 1:1-2:3
New Testament Reading
• Acts 9:1-22
Suggested Psalm
• Psalm 111
He sent redemption to his people
and decreed that his covenant should last forever.
His name is holy and fearsome –
the first and foremost point of wisdom is the fear of Adonai;
all those living by it gain good common sense.
His praise stands forever.
(Psalm 111:9-10 CJB)
Aliyot
The seven aliyot readings from the Torah begin at these verses:
Numbers 30:2(1)
Numbers 31:1
Numbers 31:13
Numbers 31:25
Numbers 31:42
Numbers 32:1
Numbers 32:20
Maftir: Numbers 32:39
Meditation
No one is as blind as the one who will not see. Scripture indicates that we are easily sidetracked from focusing on our true inheritance. Are you sober enough most of the time to maintain the awareness that a jealous God watches over every move you make? …Stop and meditate on how you can show your zeal for God.
– from Walk Numbers! by Jeffrey Enoch Feinberg, Ph.D., used by permission.
---
Torah Portion readings and the associated Haftarah readings generally follow the Stone Edition Chumash and/or the Complete Jewish Bible. Verse numbering generally follows the Hebrew tradition, and where modern Christian traditions differ those verse numbers are shown in parentheses (). Haftarah readings generally follow the Ashkenazi tradition. Where the Sephardic tradition differs, the Haftarah portions are designated as (A) and (S). Suggested New Testament readings are taken from various sources. Suggested Psalm readings are from the Messianic Siddur for Shabbat by Daniel Perek. The Key People, The Scenes, and The Main Events are taken from the Walk! series of Messianic Devotion Commentaries by Dr. Jeffrey Enoch Feinberg. Unless otherwise marked, Scripture quotations are taken from the Complete Jewish Bible, Copyright © 1998 and 2016 by David H. Stern. Used by permission. All copyrights reserved worldwide.
This post contains affiliate links. Purchases help support Messianic Torah Portion and do not affect the price you pay. Please do not make purchases on the Sabbath.
Messianic Torah Portion is a ministry of The Messianic Light.