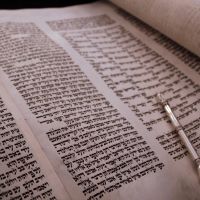 13 Cheshvan 5781
October 31, 2020
Parashat Lech L'cha
"Go Forth Yourself "
Here are the Torah, Haftarah and suggested Brit Chadasha (New Testament) and Tehillim (Psalms) readings for this week.
• Genesis 12:1-17:27
• Isaiah 40:27-41:16
• Acts 7:1-8
• Romans 4:1-25
• Psalm 110

The seven aliyot readings from the Torah begin at these verses:
Genesis 12:1
Genesis 12:14
Genesis 13:5
Genesis 14:1
Genesis 14:21
Genesis 15:7
Genesis 17:7
Maftir: Genesis 17:24
Adonai has sworn, and will not relent: "You are a Kohen forever according to the order of Melchizedek."
(Psalm 110:4 TLV)
In Lech L'cha
The Key People include Avram (Abram), Sarai, Lot, Par'oh (Pharaoh), king of Shin'ar, king of S'dom (Sodom), Melchi-Tsedek (Melchizedek), Eli'ezer, Hagar, and Yishma'el (Ishmael) .
The Scenes include Charan (Haran), C'na'an (Canaan), Sh'chem (Shechem), Beit-El (Bethel), Ai, Tso'ar (Zoar) Plain of Jordon, S'dom (Sodom), 'Amorah (Gomorrah), Chefron (Hebron), and Dan.
The Main Events include God's promises to Avram, the big trip to a new land, Egyptian detour, Lot's split-off, four kings against five, Yishma'el episode, name changes, and promise of Yitzchak's birth.
Then Adonai said to Abram, "Get going out from your land, and from your relatives, and from your father's house, to the land that I will show you. My heart's desire is to make you into a great nation, to bless you, to make your name great so that you may be a blessing. My desire is to bless those who bless you, but whoever curses you I will curse, and in you all the families of the earth will be blessed."
(Genesis 12:1-3 TLV)
The Haftarah
Fear not, for I am with you, be not dismayed, for I am your God. I will strengthen you. Surely I will help you. I will uphold you with My righteous right hand.
(Isaiah 41:10 TLV)
The Brit Chadasha
Stephen declared, "Brothers and fathers, listen. The God of glory appeared to our father Abraham when he was in Mesopotamia, before he lived in Haran. He said to him, 'Leave your country and your relatives, and come here to the land that I will show you.'
(Acts 7:2-3 TLV)

Torah Portion readings and the associated Haftarah readings generally follow the Stone Edition Chumash and/or the Complete Jewish Bible. Verse numbering generally follows the Hebrew tradition, and where modern Christian traditions differ those verse numbers are shown in parentheses (). Haftarah readings generally follow the Ashkenazi tradition. Where the Sephardic tradition differs, the Haftarah portions are designated as (A) and (S). Suggested New Testament readings are taken from various sources. Suggested Psalm readings are from the Messianic Siddur for Shabbat by Daniel Perek. The Key People, The Scenes, and The Main Events are taken from the Walk! series of Messianic Devotion Commentaries by Dr. Jeffrey Enoch Feinberg. Scripture taken from the Tree of Life Version (TLV) © 2015 by the Messianic Jewish Family Bible Society. Used by permission of the Messianic Jewish Family Bible Society.