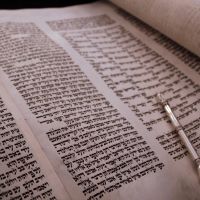 2 Tamuz 5781
June 12, 2021
Parashat Korach
"Korah"
Here are the Torah, Haftarah and suggested Brit Chadasha (New Testament) and Tehillim (Psalms) readings for this week.
• Numbers 16:1-18:32
• 1 Samuel 11:14-12:22
• Acts 5:1-11
• Psalm 5
Declare them guilty, O God! Let them fall by their own schemes. Banish them because of their many transgressions—for they have rebelled against You. But let all who take refuge in You rejoice! Let them always shout for joy! You will shelter them and they exult—those who love Your Name. For You bless the righteous, Adonai. You surround him with favor as a shield.
(Psalm 5:11-13 TLV)
The seven aliyot readings from the Torah begin at these verses:
Numbers 16:1
Numbers 16:14
Numbers 16:20
Numbers 17:9(16:44)
Numbers 17:16(1)
Numbers 17:25(10)
Numbers 18:21
Maftir: Numbers 18:30
In Korach
The Key People include Korach (Korah), Datan (Dathan), Aviram (Abiram), On; Moshe (Moses); 250 leaders of the congregation; Aharon (Aaron), El'azar (Eleazar); and haL'vi'im (the Levites).
The Scene is near the entrance to the Tent of Meeting; last location mentioned, driven to Chormah (Hormah/"destruction").
The Main Events include Korach's revolt; ground opening to swallow rebels and their households; 250 more followers with censors consumed by fire; El'azar hammering bronze censors into altar covering as a memorial; more complaints and a plague; twelve rods collected, Aharon's buds as a sign against the rebels; Levites given for help in tabernacle service while outsiders forbidden to approach God; and tithes and offerings first consecrated to the LORD, the rest used to support the priests.
So Moses spoke to Bnei-Yisrael. Each of their princes gave him a staff, one staff for each prince according to their ancestral houses, twelve staffs in all, and Aaron's staff was among them. Moses placed the staffs before Adonai in the Tent of Testimony. The next day, Moses entered the Tent of Testimony and behold, Aaron's staff, from the house of Levi, had sprouted, blossomed, and produced almonds!
(Numbers 17:6-8 TLV)

The Haftarah
Then Samuel said to the people, "Come, let's go to Gilgal and reaffirm the kingdom there." So all the people went to Gilgal, and there they made Saul king before Adonai in Gilgal. There they sacrificed fellowship offerings before Adonai, and there Saul and all the men of Israel rejoiced greatly.
(1 Samuel 11:14-15 TLV)

The Brit Chadasha
Then Peter said to her, "How did you agree to test the Ruach Adonai? Look, the feet of those who buried your husband are at the door—they will carry you out, too!" Immediately she fell down at his feet and died. When the young men came back in, they found her dead and carried her out and buried her beside her husband. And great fear came over the whole community and all who heard these things.
(Acts 5:9-11 TLV)
Torah Portion readings and the associated Haftarah readings generally follow the Stone Edition Chumash and/or the Complete Jewish Bible. Verse numbering generally follows the Hebrew tradition, and where modern Christian traditions differ those verse numbers are shown in parentheses (). Haftarah readings generally follow the Ashkenazi tradition. Where the Sephardic tradition differs, the Haftarah portions are designated as (A) and (S). Suggested New Testament readings are taken from various sources. Suggested Psalm readings are from the Messianic Siddur for Shabbat by Daniel Perek. The Key People, The Scenes, and The Main Events are taken from the Walk! series of Messianic Devotion Commentaries by Dr. Jeffrey Enoch Feinberg. Scripture taken from the Tree of Life Version (TLV) © 2015 by the Messianic Jewish Family Bible Society. Used by permission of the Messianic Jewish Family Bible Society.