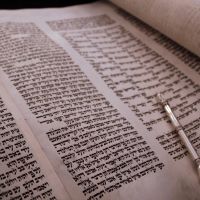 13 Elul 5781
August 21, 2021
Parashat Ki Tetze
"When you go out"
Here are the Torah, Haftarah and suggested Brit Chadasha (New Testament) and Tehillim (Psalms) readings for this week.
• Deuteronomy 21:10-25:19
• Isaiah 54:1-10 (A)(S)
• Isaiah 52:13-54:10 (Messianic Adaptation)
• Matthew 19:3-12
• 1 Corinthians 5:1-5
• Psalm 32
Of David, a contemplative song.
Blessed is the one whose transgression is forgiven, whose sin is pardoned.
Blessed is the one whose guilt Adonai does not count, and in whose spirit there is no deceit…
Then I acknowledged my sin to You and did not hide my iniquity. I said: "I confess my transgressions to Adonai," and You forgave the guilt of my sin. Selah
(Psalm 32:1,2,5 TLV)

The seven aliyot readings from the Torah begin at these verses:
Deuteronomy 21:10
Deuteronomy 21:22
Deuteronomy 22:8
Deuteronomy 23:8(7)
Deuteronomy 23:25(24)
Deuteronomy 24:5
Deuteronomy 24:14
Maftir: Deuteronomy 25:17
In Ki Tetze
The Key Person is Moshe (Moses), speaking to all Yisra'el (Israel).
The Scene is the wilderness east of the Promised Land, ready to cross over the Yarden (Jordan).
The Main Events include more of Moshe's words: marrying women prisoners of war, rights of a firstborn, consequences of a rebellious son, miscellaneous laws, tsitsit, sexual purity, restrictions on joining the assembly, avoiding impurities, more laws about loans, vows, divorce, newlyweds, skin disease, poor people, business practices, and removal of Amalekites.
For Adonai your God walks in the midst of your camp, to rescue you and to give your enemies over to you. Therefore your camp must be holy, so that He does not see anything indecent among you and turn away from you.
(Deuteronomy 23:15 TLV)

The Haftarah
He was despised and rejected by men, a man of sorrows, acquainted with grief, One from whom people hide their faces. He was despised, and we did not esteem Him. Surely He has borne our griefs and carried our pains. Yet we esteemed Him stricken, struck by God, and afflicted. But He was pierced because of our transgressions, crushed because of our iniquities. The chastisement for our shalom was upon Him, and by His stripes we are healed.
(Isaiah 53:3-5 TLV)

The Brit Chadasha
Pharisees came up to Yeshua, testing Him and saying, "Is it permitted for a man to divorce his wife for any reason at all?"
Haven't you read?" He answered. "He who created them from the beginning 'made them male and female' and said, 'For this reason a man shall leave his father and mother and be joined to his wife, and the two shall become one flesh.'
(Matthew 19:3-5 TLV)

Torah Portion readings and the associated Haftarah readings generally follow the Stone Edition Chumash and/or the Complete Jewish Bible. Verse numbering generally follows the Hebrew tradition, and where modern Christian traditions differ those verse numbers are shown in parentheses (). Haftarah readings generally follow the Ashkenazi tradition. Where the Sephardic tradition differs, the Haftarah portions are designated as (A) and (S). Suggested New Testament readings are taken from various sources. Suggested Psalm readings are from the Messianic Siddur for Shabbat by Daniel Perek. The Key People, The Scenes, and The Main Events are taken from the Walk! series of Messianic Devotion Commentaries by Dr. Jeffrey Enoch Feinberg. Scripture taken from the Tree of Life Version (TLV) © 2015 by the Messianic Jewish Family Bible Society. Used by permission of the Messianic Jewish Family Bible Society.