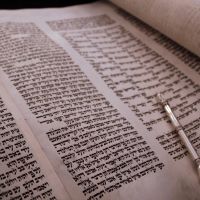 Parashat Ki Tavo
"When You Enter In"
21 Elul 5782
September 17, 2022
Torah Reading
• Deuteronomy 26:1-29:8(9)
When you have come to the land Adonai your God is giving you as your inheritance, taken possession of it and settled there…
(Deuteronomy 26:16 CJB)
Haftarah Reading
• Isaiah 60:1-22
New Testament Reading
• Luke 24:44-53
Suggested Psalm
• Psalm 51
Adonai, open my lips;
then my mouth will praise you.
For you don't want sacrifices, or I would give them;
you don't take pleasure in burnt offerings.
My sacrifice to God is a broken spirit;
God, you won't spurn a broken, chastened heart.
(Psalm 51:17-19 CJB)

Aliyot
The seven aliyot readings from the Torah begin at these verses:
Deuteronomy 26:1
Deuteronomy 26:12
Deuteronomy 26:16
Deuteronomy 27:1
Deuteronomy 27:11
Deuteronomy 28:7
Deuteronomy 29:1(2)
Maftir: Deuteronomy 29:6(7)
Meditation
Appropriating a glorious inheritance is no easy calling for a people characterized by low self-esteem. How can one overcome his self-imposed beliefs that "something must go wrong" or "I'm unworthy to be exalted over another!" Of course, on one is worthy to be exalted! …Why not boast that God exalts those who follow Him and glory in His righteousness (Psalm 89:16-17)?
– from Walk Deuteronomy! by Jeffrey Enoch Feinberg, Ph.D., used by permission.
---
Torah Portion readings and the associated Haftarah readings generally follow the Stone Edition Chumash and/or the Complete Jewish Bible. Verse numbering generally follows the Hebrew tradition, and where modern Christian traditions differ those verse numbers are shown in parentheses (). Haftarah readings generally follow the Ashkenazi tradition. Where the Sephardic tradition differs, the Haftarah portions are designated as (A) and (S). Suggested New Testament readings are taken from various sources. Suggested Psalm readings are from the Messianic Siddur for Shabbat by Daniel Perek. The Key People, The Scenes, and The Main Events are taken from the Walk! series of Messianic Devotion Commentaries by Dr. Jeffrey Enoch Feinberg. Unless otherwise marked, Scripture quotations are taken from the Complete Jewish Bible, Copyright © 1998 and 2016 by David H. Stern. Used by permission. All copyrights reserved worldwide.
This post contains affiliate links. Purchases help support Messianic Torah Portion and do not affect the price you pay. Please do not make purchases on the Sabbath.
Messianic Torah Portion is a ministry of The Messianic Light.