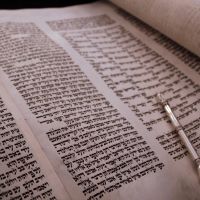 20 Elul 5781
August 28, 2021
Parashat Ki Tavo
"When you come in"
Here are the Torah, Haftarah and suggested Brit Chadasha (New Testament) and Tehillim (Psalms) readings for this week.
• Deuteronomy 26:1-29:8(9) 
• Isaiah 60:1-22
• Luke 24:44-53
• Psalm 51
O Lord, open my lips, and my mouth will declare Your praise.
For You would not delight in sacrifice, or I would give it, nor be pleased by burnt offerings.
The sacrifices of God are a broken spirit.
A broken and a contrite heart, O God, You will not despise.
(Psalm 51:17-19 TLV)

The seven aliyot readings from the Torah begin at these verses:
Deuteronomy 26:1
Deuteronomy 26:12
Deuteronomy 26:16
Deuteronomy 27:1
Deuteronomy 27:11
Deuteronomy 28:7
Deuteronomy 29:1(2)
Maftir: Deuteronomy 29:6(7)
In Ki Tavo
The Key Person is Moshe (Moses), speaking to all Yisra'el (Israel).
The Scene is the wilderness east of the Promised Land, ready to cross over the Yarden (Jordan).
The Main Events include Moshe's words about what to do when you enter into the Land: offer firstfruits and tithes, obey God's commands, inscribe Torah on stones, and proclaim blessings for obeying from Mt. G'rizim (Gerizim) and curses for disobeying from Mt. Eival (Ebal); covenant renewal and invincibility as God keeps His chesed (covenant kindness).
Today you have affirmed Adonai as your God, that you will walk in His ways, keep His statutes, mitzvot and ordinances, and listen to His voice. Now today Adonai has affirmed you as His treasured people, as He promised you; that you are to keep all His mitzvot; that He will set you high above all the nations He has made, for praise, fame and honor; and that you are to be a holy people to Adonai your God, as He has promised."
(Deuteronomy 26:17-19 TLV)

The Haftarah
Arise, shine, for your light has come! The glory of Adonai has risen on you. For behold, darkness covers the earth, and deep darkness the peoples. But Adonai will arise upon you, and His glory will appear over you. Nations will come to your light, kings to the brilliance of your rising.
(Isaiah 60:1-3 TLV)

The Brit Chadasha
"And behold, I am sending the promise of My Father upon you; but you are to stay in the city until you are clothed with power from on high." Then Yeshua led them out as far as Bethany, and He lifted up His hands and blessed them. And while blessing them, He departed from them and was taken up into heaven.
(Luke 24:49-51 TLV)
Torah Portion readings and the associated Haftarah readings generally follow the Stone Edition Chumash and/or the Complete Jewish Bible. Verse numbering generally follows the Hebrew tradition, and where modern Christian traditions differ those verse numbers are shown in parentheses (). Haftarah readings generally follow the Ashkenazi tradition. Where the Sephardic tradition differs, the Haftarah portions are designated as (A) and (S). Suggested New Testament readings are taken from various sources. Suggested Psalm readings are from the Messianic Siddur for Shabbat by Daniel Perek. The Key People, The Scenes, and The Main Events are taken from the Walk! series of Messianic Devotion Commentaries by Dr. Jeffrey Enoch Feinberg. Scripture taken from the Tree of Life Version (TLV) © 2015 by the Messianic Jewish Family Bible Society. Used by permission of the Messianic Jewish Family Bible Society.