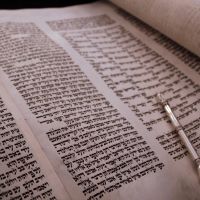 12 Tishrei 5782
September 18, 2021
Parashat Ha'azinu
"Give ear" 
Here are the Torah, Haftarah and suggested Brit Chadasha (New Testament) and Tehillim (Psalms) readings for this week.
• Deuteronomy 32:1-52
• 2 Samuel 22:1-51
• Matthew 7:21-27
• Romans 10:17-11:12;  12:19;  15:9-10
• Psalm 71
In You, Adonai, have I taken refuge. Let me never be ashamed. Deliver me and rescue me in Your justice. Turn Your ear to me and save me. Be to me a sheltering rock where I may always go. Give the command to save me—for You are my rock and my fortress.
(Psalm 71:1-3 TLV)
The seven aliyot readings from the Torah begin at these verses:
Deuteronomy 32:1
Deuteronomy 32:7
Deuteronomy 32:13
Deuteronomy 32:19
Deuteronomy 32:29
Deuteronomy 32:40
Deuteronomy 32:44
Maftir: Deuteronomy 32:4
In Ha'azinu
The Key People are Moshe (Moses) and Y'hoshua (Joshua), speaking to all Yisra'el (Israel).
The Scenes are the wilderness east of the Promised Land, and Har N'vo (Mt. Nebo) with its view of the land across the Yarden (Jordan).
The Main Events include Moshe and Y'hoshua reciting the Ha'azinu song to all the people gathered; song used as a teaching poem, calling heaven and earth to "give ear" as witnesses of Yisra'el's disobedience, which leads to devastation and dispersion but eventually regathering; later the same day, Moshe climbing Mt. Nebo to view the Promised Land before dying.
Give ear, O heavens, and I will speak! Let the earth hear the words of my mouth. May my teaching trickle like rain, my speech distill like dew—like gentle rain on new grass, like showers on tender plants. For I will proclaim Adonai's Name, ascribe greatness to our God! The Rock—blameless is His work. Indeed, all His ways are just. God of faithfulness without iniquity, righteous and upright is He.
(Deuteronomy 32:1-4 TLV)

The Haftarah
For who is God, besides Adonai? and who is a Rock, besides our God?
Adonai lives! And blessed be my Rock! Exalted be God—the Rock of my salvation!
(2 Samuel 22:32,47 TLV)

The Brit Chadasha
Therefore everyone who hears these words of Mine and does them will be like a wise man who built his house on the rock. And the rain fell, and the floods came, and the winds blew and beat against that house; and yet it did not fall, for its foundation had been built on the rock.
(Matthew 7:24-25 TLV)
Torah Portion readings and the associated Haftarah readings generally follow the Stone Edition Chumash and/or the Complete Jewish Bible. Verse numbering generally follows the Hebrew tradition, and where modern Christian traditions differ those verse numbers are shown in parentheses (). Haftarah readings generally follow the Ashkenazi tradition. Where the Sephardic tradition differs, the Haftarah portions are designated as (A) and (S). Suggested New Testament readings are taken from various sources. Suggested Psalm readings are from the Messianic Siddur for Shabbat by Daniel Perek. The Key People, The Scenes, and The Main Events are taken from the Walk! series of Messianic Devotion Commentaries by Dr. Jeffrey Enoch Feinberg. Scripture taken from the Tree of Life Version (TLV) © 2015 by the Messianic Jewish Family Bible Society. Used by permission of the Messianic Jewish Family Bible Society.