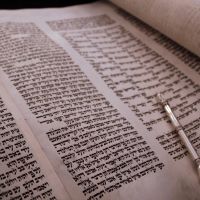 18 Av 5780
August 8, 2020
Parashat Ekev
"As a result" 
Here are the Torah, Haftarah and suggested Brit Chadasha (New Testament) readings for this week. Listen to the current Portion readings from the Tree of Life Version here.
• Deuteronomy 7:12-11:25
• Isaiah 49:14-51:3
• Hebrews 11:8-13
The seven aliyot readings from the Torah begin at these verses:
Deuteronomy 7:12
Deuteronomy 8:11
Deuteronomy 9:4
Deuteronomy 10:1
Deuteronomy 10:12
Deuteronomy 11:10
Deuteronomy 11:22
Maftir: Deuteronomy 11:22
(In this reading the maftir repeats the seventh aliyah.)
In Ekev
The Key Person is Moshe (Moses), speaking to all Yisra'el (Israel).
The Scene is the wilderness east of the Promised Land, ready to cross over the Yarden (Jordan).
The Main Events include more talk from Moshe: future blessings for obedience, reminders of past signs and wonders, and exhortation to follow God now; remembering the golden calf, new stone tablets, and the ark; t'filliln and mezuzah as reminders; anticipating prosperity in a rain-filled Land as a result of super-obedience!
So you are to keep the mitzvot of Adonai your God—to walk in His ways and to fear Him. For Adonai your God is bringing you into a good land—a land of wadis with water, of springs and fountains flowing out in the valleys and hills, a land of wheat and barley, vines, figs and pomegranates, a land of olive oil and honey, a land where you will eat bread with no poverty, where you will lack nothing, a land whose stones are iron, and out of whose hills you can dig copper. So you will eat and be full, and you will bless Adonai your God for the good land He has given you.
(Deuteronomy 8:6-10 TLV)
The Haftarah
"Listen to Me, you who pursue justice, you who seek Adonai. Look to the rock from which you were hewn, and to the quarry from which you were dug. Look to Abraham your father and to Sarah who bore you. For when I called him, he was but one, then I blessed him and multiplied him." For Adonai will comfort Zion. He will comfort all her waste places. He will make her wilderness like Eden, her desert like the garden of Adonai. Joy and gladness will be found in her, thanksgiving and a sound of melody.
(Isaiah 51:1-3 TLV)

The Brit Chadasha
By faith Abraham obeyed when he was called to go out to a place he was to receive as an inheritance. He went out, not knowing where he was going. By faith he migrated to the land of promise as if it were foreign, dwelling in tents with Isaac and Jacob—fellow heirs of the same promise. For he was waiting for the city that has foundations, whose architect and builder is God.
(Hebrews 11:8-10 TLV)
Torah Portion readings and the associated Haftarah readings generally follow the Stone Edition Chumash and/or the Complete Jewish Bible. Verse numbering generally follows the Hebrew tradition, and where modern Christian traditions differ those verse numbers are shown in parentheses (). Haftarah readings generally follow the Ashkenazi tradition. Where the Sephardic tradition differs, the Haftarah portions are designated as (A) and (S). Suggested New Testament readings are taken from the Walk! series of Messianic Devotion Commentaries by Dr. Jeffrey Enoch Feinberg. The Key People, The Scenes, and The Main Events are taken from the Walk! series of Messianic Devotion Commentaries by Dr. Jeffrey Enoch Feinberg. Scripture taken from the Tree of Life Version (TLV) © 2015 by the Messianic Jewish Family Bible Society. Used by permission of the Messianic Jewish Family Bible Society.