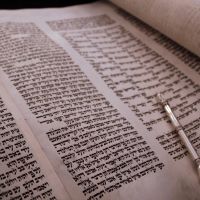 27 Cheshvan 5781
November 14, 2020
Parashat Chayei Sarah
"Life of Sarah"
Here are the Torah, Haftarah and suggested Brit Chadasha (New Testament) and Tehillim (Psalms) readings for this week.
• Genesis 23:1-25:18
• 1 Kings 1:1-31
• Matthew 1:1-17
• Psalm 45
The seven aliyot readings from the Torah begin at these verses:
Genesis 23:1
Genesis 23:17
Genesis 24:10
Genesis 24:27
Genesis 24:53
Genesis 25:1
Genesis 25:12
Maftir: Genesis 25:16
All glorious is the king's daughter within the palace—her gown is interwoven with gold.
She will be led to the king in embroidered garments.
Her virgins, her companions following her, are coming in to you.
They are led in with joy and gladness—they enter into the palace of the king.
Your sons will take your fathers' place. You will make them princes throughout the land.
I will cause your name to be remembered in all generations.
Therefore the nations will praise you forever and ever.
(Psalm 45:14-18 TLV)
In Chayei Sarah
The Key People include Sarah, Avraham (Abraham), Hittites, Efron ben-Tsochar (Ephron son of Zohar), Avraham's servant, Rivkah (Rebecca), Lavan (Laban), Yitzchak (Isaac), K'turah (Keturah), more children, and Yishma'el (Ishmael).
The Scenes include Kiryat Arba (Chevron/Hebron), cave of Machpelah near mamre, Efron's field, Aram Naharayim-Nachor's City, B'er Lahai Roi in the Negev, and the region from Havilah to Shur.
The Main Events include Sarah's death, first property purchase in Yisra'el (a burial cave for Sarah), a non-Canaanite bride for Yitzchak, marriage and comfort for Yitzchak, more children for Avraham through Keturah, Avraham's death and burial next to Sarah, Yishma'el's descendants, and Yishma'el's death.
Adonai, the God of heaven, who took me from my father's house and from my native land and who spoke to me and made a pledge to me saying, 'To your seed I will give this land'—He will send His angel before you and you will take a wife for my son from there.
(Genesis 24:7 TLV)
The Haftarah
Then the king swore an oath: "As Adonai lives, who has redeemed my soul out of all distress, as surely as I swore to you by Adonai, the God of Israel, saying that your son Solomon will be king after me and will sit on my throne in my place. Thus I will surely fulfill it this day!"
(1 Kings 1:29-30 TLV)
The Brit Chadasha
The book of the genealogy of Yeshua ha-Mashiach, Ben-David, Ben-Avraham:
(Matthew 1:1 TLV)
Torah Portion readings and the associated Haftarah readings generally follow the Stone Edition Chumash and/or the Complete Jewish Bible. Verse numbering generally follows the Hebrew tradition, and where modern Christian traditions differ those verse numbers are shown in parentheses (). Haftarah readings generally follow the Ashkenazi tradition. Where the Sephardic tradition differs, the Haftarah portions are designated as (A) and (S). Suggested New Testament readings are taken from various sources. Suggested Psalm readings are from the Messianic Siddur for Shabbat by Daniel Perek. The Key People, The Scenes, and The Main Events are taken from the Walk! series of Messianic Devotion Commentaries by Dr. Jeffrey Enoch Feinberg. Scripture taken from the Tree of Life Version (TLV) © 2015 by the Messianic Jewish Family Bible Society. Used by permission of the Messianic Jewish Family Bible Society.