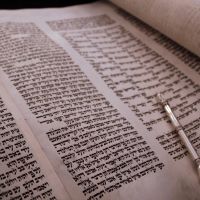 Parashat Bamidbar
"In The Wilderness"
27 Iyyar 5782
May 28, 2022
Alternate date outside Israel (why?):
5 Sivan 5782
June 4, 2022
Torah Reading
• Numbers 1:1-4:20
Adonai spoke to Moshe in the Sinai Desert, in the tent of meeting,
(Numbers 1:1 CJB)
Haftarah Reading
• Hosea 2:1(1:10)-2:22(20)
New Testament Reading
• Luke 2:1-7
• Romans 9:22-33
Suggested Psalm
• Psalm 122
Our feet were already standing
at your gates, Yerushalayim.
Yerushalayim, built as a city
fostering friendship and unity.
The tribes have gone up there, the tribes of Adonai,
as a witness to Isra'el,
to give thanks to the name of Adonai.
(Psalm 122:2-4 CJB)
Aliyot
The seven aliyot readings from the Torah begin at these verses:
Numbers 1:1
Numbers 1:20
Numbers 2:1
Numbers 3:1
Numbers 3:14
Numbers 3:40
Numbers 4:1
Maftir: Numbers 4:17
Meditation
B'MIDBAR Sinai, the priestly tribe replaced the firstborns in the inner circle surrounding the tabernacle, as a direct result of their falthfulness to God when the rest of Yisra'el whored after Ba'al (Exodus 32). Now God brings others near (Lo-Ruchamah and Lo-'Ammi) – not simply as a result of Yisra'el's faithlessness, but also "to make known the riches f his glory to those who are objects of his mercy …that is, to us, whom he called not only from among the Jews but also from among the Gentiles (Romans 9:23-24)!
– from Walk Numbers! by Jeffrey Enoch Feinberg, Ph.D., used by permission.
---
Torah Portion readings and the associated Haftarah readings generally follow the Stone Edition Chumash and/or the Complete Jewish Bible. Verse numbering generally follows the Hebrew tradition, and where modern Christian traditions differ those verse numbers are shown in parentheses (). Haftarah readings generally follow the Ashkenazi tradition. Where the Sephardic tradition differs, the Haftarah portions are designated as (A) and (S). Suggested New Testament readings are taken from various sources. Suggested Psalm readings are from the Messianic Siddur for Shabbat by Daniel Perek. The Key People, The Scenes, and The Main Events are taken from the Walk! series of Messianic Devotion Commentaries by Dr. Jeffrey Enoch Feinberg. Unless otherwise marked, Scripture quotations are taken from the Complete Jewish Bible, Copyright © 1998 and 2016 by David H. Stern. Used by permission. All copyrights reserved worldwide.
This post contains affiliate links. Purchases help support Messianic Torah Portion and do not affect the price you pay. Please do not make purchases on the Sabbath.
Messianic Torah Portion is a ministry of The Messianic Light.