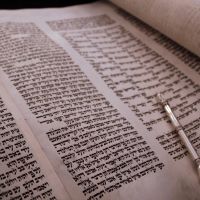 Parashat Acharei Mot
"After The Death"
22 Aviv 5782
April 23, 2022
Alternate date outside Israel (why?):
29 Aviv 5782
April 30, 2022
Torah Reading
• Leviticus 16:1-18:30
Adonai spoke to Moshe after the death of Aharon's two sons…
(Leviticus 16:1 CJB)
Haftarah Reading
• Amos 9:7-15 (A)
• Ezekiel 22:1-16 (S)
New Testament Reading
• Acts 15:13-21
• 1 Corinthians 6:9-20
Suggested Psalm
• Psalm 26
[By David:] Vindicate me, Adonai,
for I have lived a blameless life;
unwaveringly I trust in Adonai.
Examine me, Adonai, test me,
search my mind and heart.
For your grace is there before my eyes,
and I live my life by your truth.
(Psalms 26:1-3 CJB)
Aliyot
The seven aliyot readings from the Torah begin at these verses:
Leviticus 16:1
Leviticus 16:18
Leviticus 16:25
Leviticus 17:1
Leviticus 17:8
Leviticus 18:6
Leviticus 18:22
Maftir: Leviticus 18:28
Meditation
Yeshua has told us that unless our righteousness surpasses that of the scribes and Pharisees, we cannot enter the Kingdom of Heaven. Yet works of righteousness pursued zealously with all our might will fall short. What can be done? How does one translate the righteousness that comes by faith into holy behaviors that exceed the righteousness of those who were the community's anointed gatekeepers?
– from Walk Leviticus! by Jeffrey Enoch Feinberg, Ph.D., used by permission.
---
Torah Portion readings and the associated Haftarah readings generally follow the Stone Edition Chumash and/or the Complete Jewish Bible. Verse numbering generally follows the Hebrew tradition, and where modern Christian traditions differ those verse numbers are shown in parentheses (). Haftarah readings generally follow the Ashkenazi tradition. Where the Sephardic tradition differs, the Haftarah portions are designated as (A) and (S). Suggested New Testament readings are taken from various sources. Suggested Psalm readings are from the Messianic Siddur for Shabbat by Daniel Perek. The Key People, The Scenes, and The Main Events are taken from the Walk! series of Messianic Devotion Commentaries by Dr. Jeffrey Enoch Feinberg. Unless otherwise marked, Scripture quotations are taken from the Complete Jewish Bible, Copyright © 1998 and 2016 by David H. Stern. Used by permission. All copyrights reserved worldwide.
This post contains affiliate links. Purchases help support Messianic Torah Portion and do not affect the price you pay. Please do not make purchases on the Sabbath.
Messianic Torah Portion is a ministry of The Messianic Light.